instagram.com/anaseixassantos
shop.anaseixas.com
Hello, Ana!
How would you describe yourself – who is Ana Seixas?
Hello! Thanks for this interview! I'm a graphic designer and illustrator from a small city called Viseu, in the center of Portugal, and currently living in Porto. I'm enthusiastic about images, illustration, design and printmaking. Besides working as an illustrator I also run a small silkscreen studio where we print and teach the technique.
Where does your passion for art/design/illustration come from?
I believe I was very lucky that my parents always thought that art and creativity were important to be taught and stimulated in early ages. Me and my sisters all started studying music at the age of 6 and a bit later I also started taking painting classes. Museums and art shows were always on our routes when travelling and I believe that this all had big importance in my adult life.
How would like to describe your creative style?
It is hard for me to say that I have a creative style defined as I see my works from three years ago and I find very little in common with what I do now. I believe that's how the work it is supposed to evolve!
Nevertheless, I believe that style is much more than form, it's more about content and way of thinking.
When creating images for a advertisement campaign, a book, a magazine or any other kind of project I always try to use clear shapes, limited color pallets, silly characters and a bit of humour. I think those things define my style 🙂
How do you hope people will feel when they see your works?
I just hope they giggle a bit, that's enough for me!
Can we say colour takes a big part of your work? If so, could you describe your relationship to it?
Huge part. I love bold and strong colours. As I try to use limited color pallets it is always a challenge to create different atmospheres using the same color combinations, and this is the part of the work process that I love and dedicate more time to.
You had a exhibition in Porto. Could you tell us more about it?
To be able to dedicate some time to my own projects is one of the most important things, as I believe it is where I find my way in the creative process without the client's constrains.
This exhibition was an excuse to explore the silkscreen technique and create a little bit of personal work. It is all about characters posing in different situations. 10 different drawings, printed in three colours in limited editions of silkscreen prints.
The idea was to experiment printing in three (strong) colours, taking advantage of the overlapping shapes and creating quirky characters.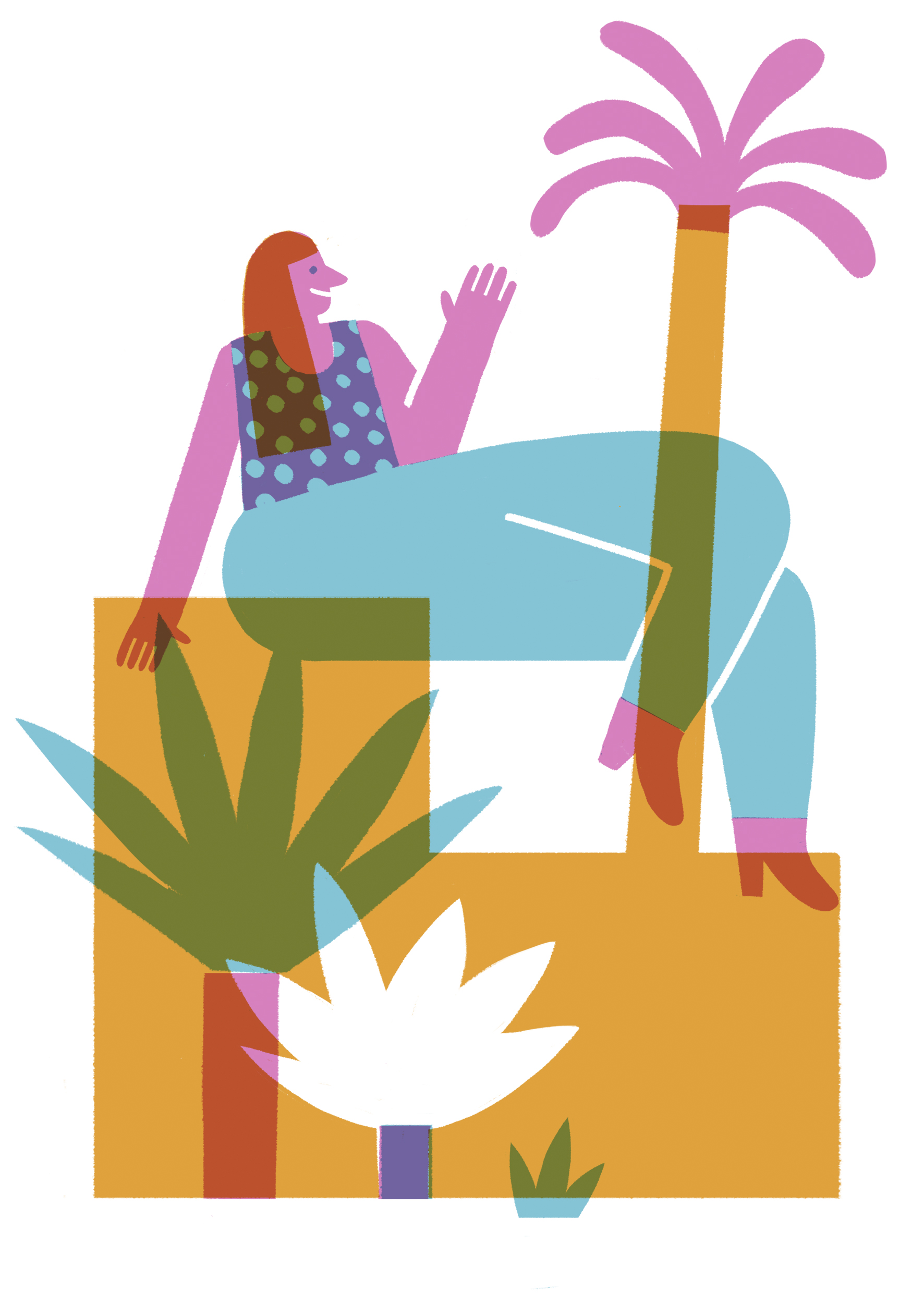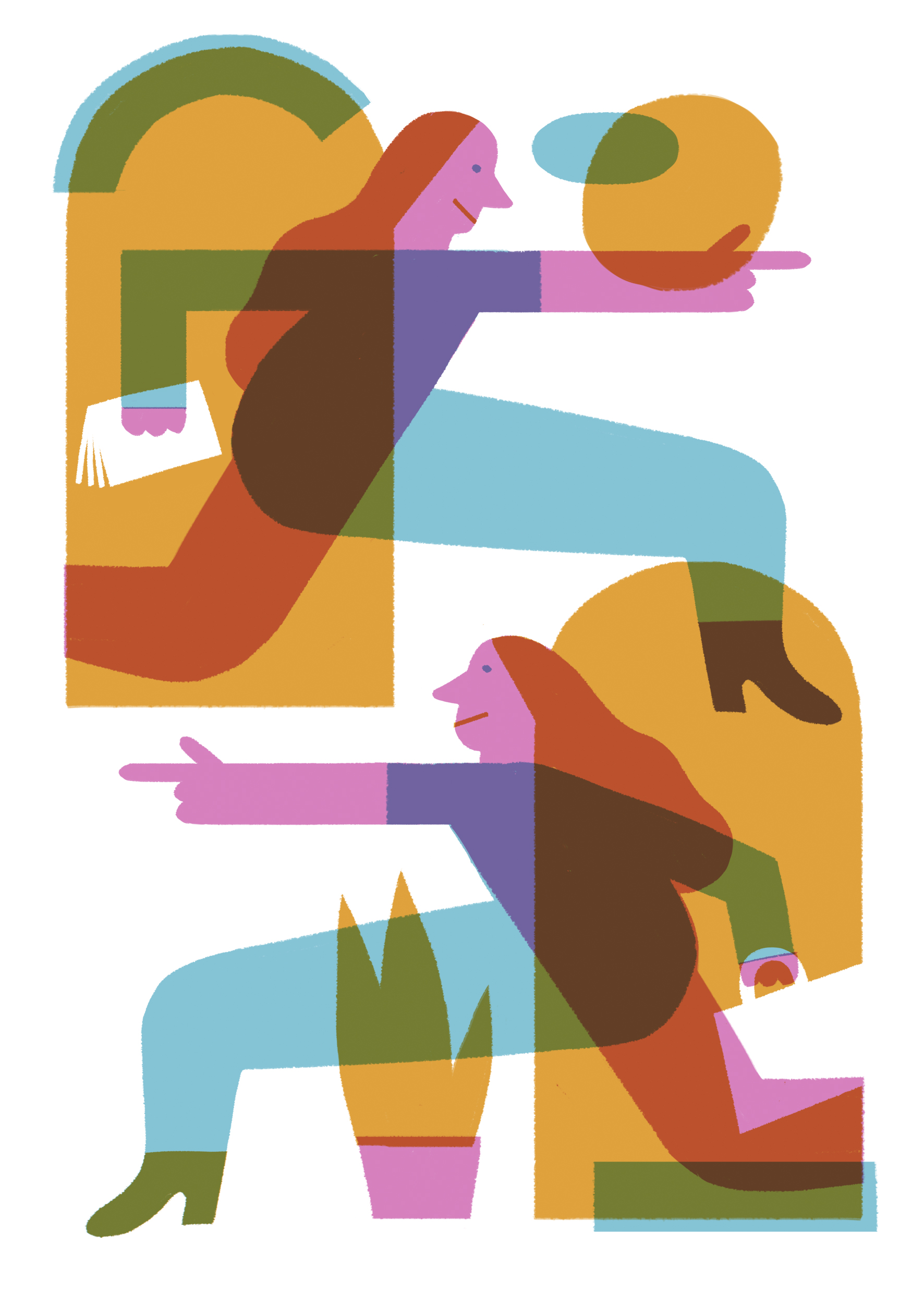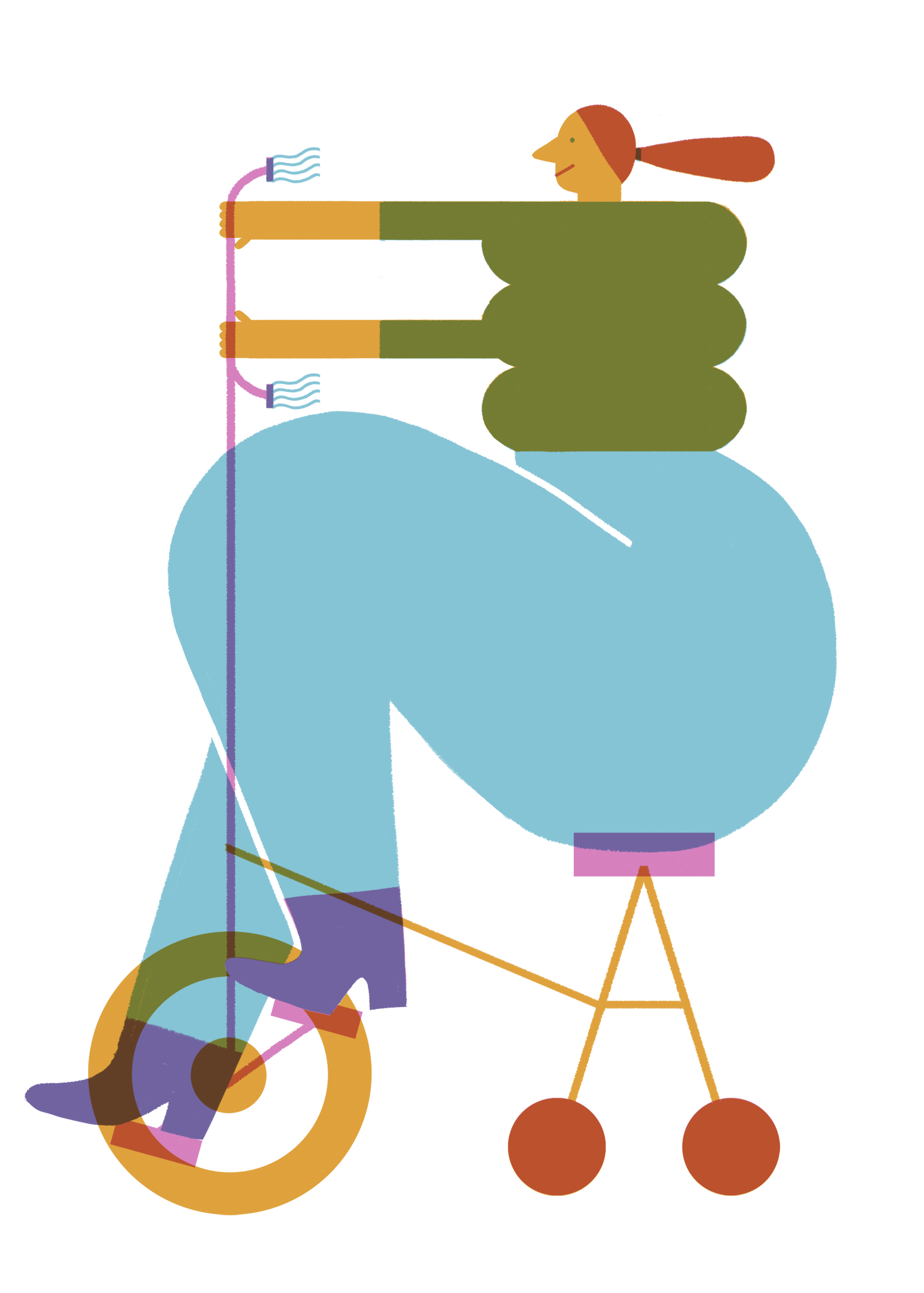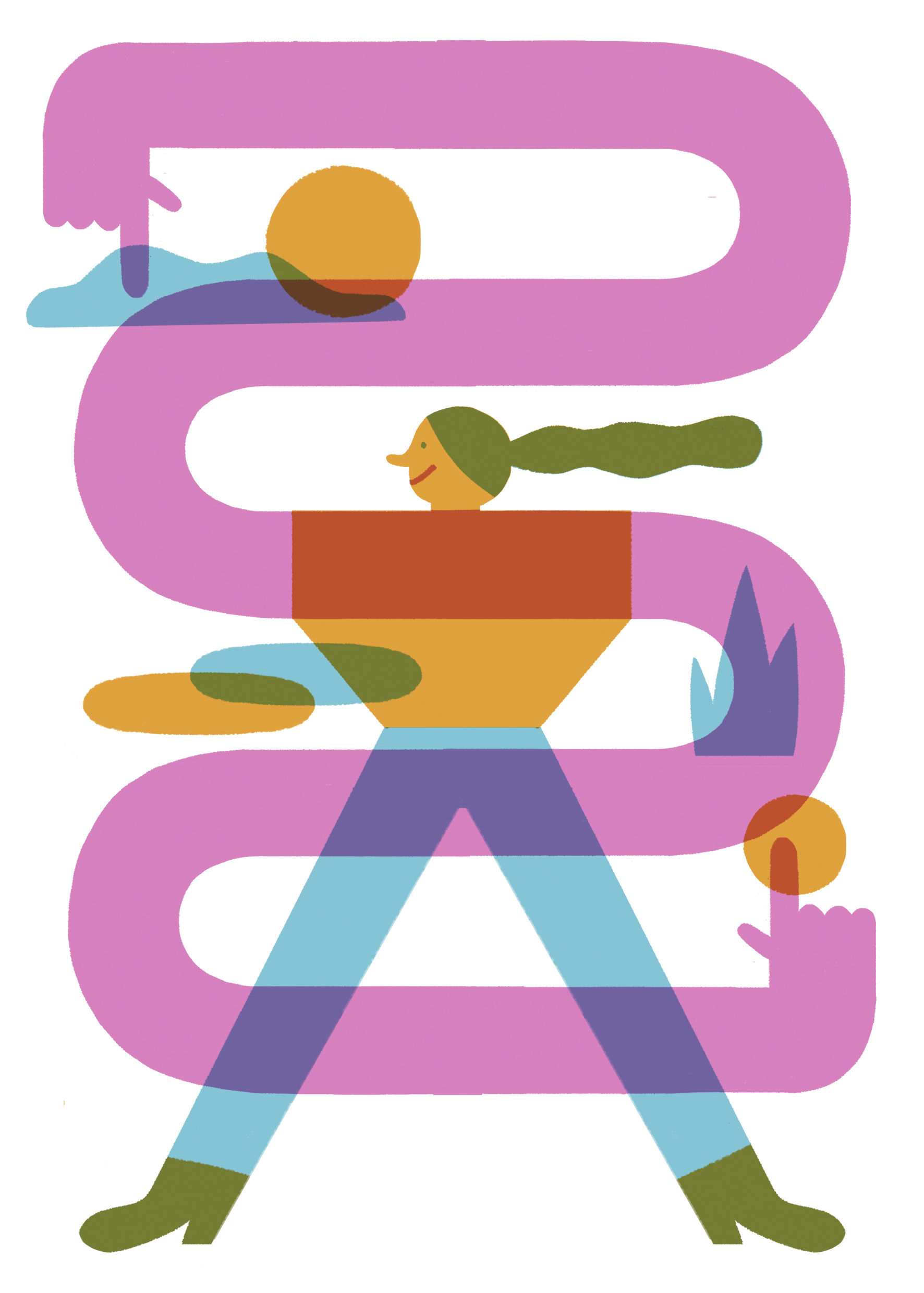 Can the creativity be learned later, or is it a feeling that is always within the human being?
A Spanish illustrator that I admire says something like "creativity is a muscle and it must be exercised" and I share that belief. It is within the human being but it is up to us to take advantage of it, keep it healthy and working.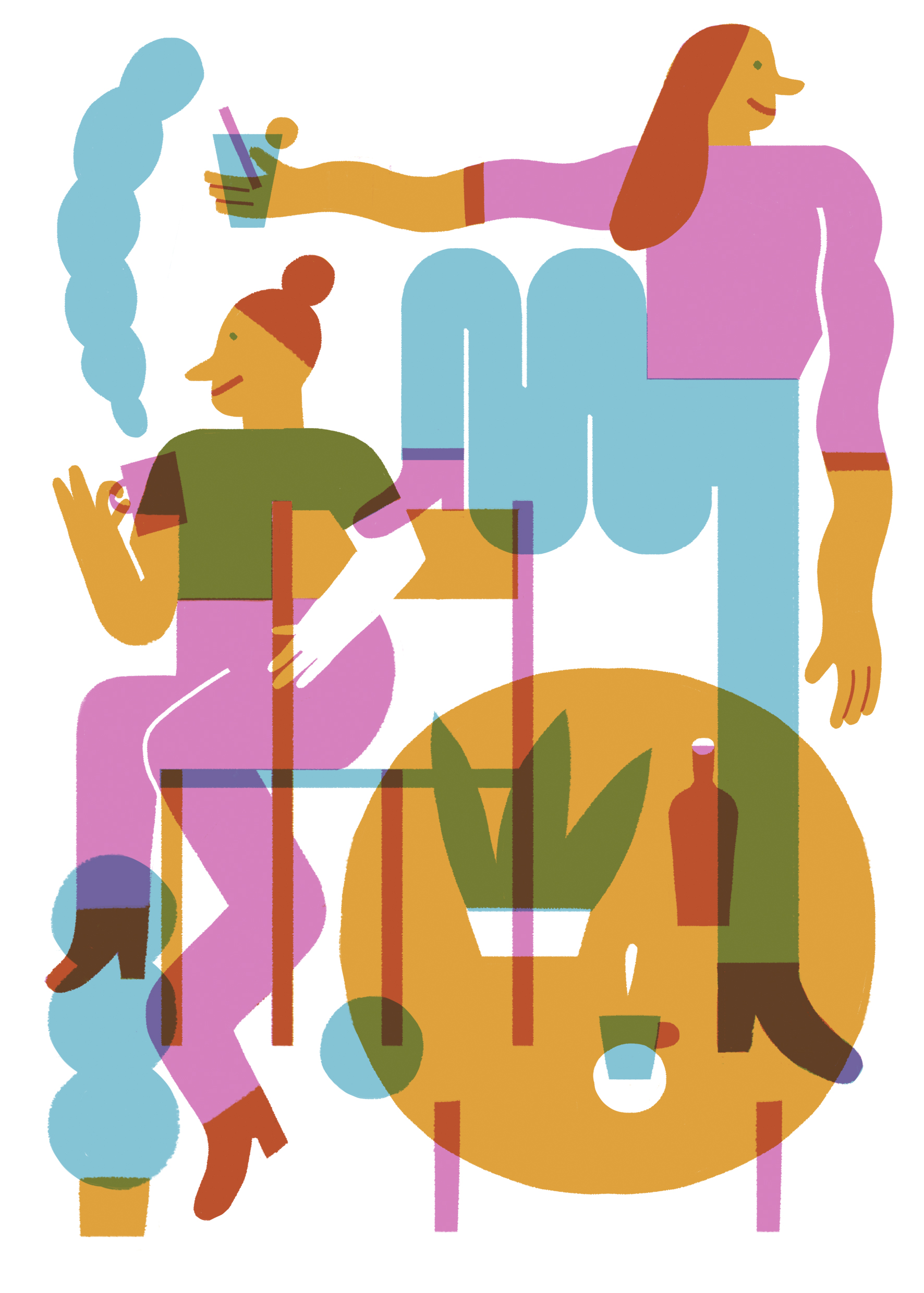 What is the most played song on your playlist?
I have an hard time choosing playlists and songs as I get overwhelmed with the infinite amount of music you can find online these days. Crazy shit!
If I must choose one, it's probably Your Hand in Mine from Explosions in the Sky.
Is there anything in your life that you can't live without?
My work planner! I can't live without it, I always have it around, otherwise I get lost between deadlines and projects.
What are the good and bad things about living in Porto?
One of the greatest things is that you can walk almost anywhere! Also it has that neighbourhood feeling that is so characteristic of a small city but at the same time it has a good cultural agenda and there is always something to see or do.
This has grown during the last couple of years as Porto is living it's hype right now, and it is great to see the city changing. But this has an other side to it. Being such a cool place to visit, tourism is growing and the neighbourhood feeling is starting to fade in the city center. House prices are rising and local shop owners are forced to shut down their life business in order to open some fancy restaurant or store. This is one bad thing, but I hope people can see the problem ahead and try to regulate this before it's too late!
Where are your favorite spots in Porto? Food, coffee, shops, etc.
For food I love to go to a small restaurant in CCBombarda, it has a mix of Azores and India spirit and everything is so tasty! Also Ramen Break for good Japanese ramen and deserts. And as I'm an ice cream lover I cannot go through this interview without recommending Sincelo.
The shops I most like in town are Ó! Galeria (illustration gallery), Daily Day (fashion) and I'd recommend Porto Belo Market on Saturday mornings for bio, vinyl's and art.
Do you have a secret spot in Porto that a few people knows about?
Porto is so small that everyone knows about every place…but some of my favourites spots are Palácio de Cristal Garden and Jardim das Virtudes. There you can have the best views over the river and relax.
What is your favourite publication for art/illustration?
Nobrow Magazine.
What was the last movie you saw at the cinema?
It – but I didn't like it that much.
Do you have a daily routine or anything specific you find yourself coming back to regularly when working?
Every day I go to my studio to work, I start early and it is where I do most part of my work, but whenever I'm blocked with some idea or need to think I go for a walk or to a coffee place where I can be away from the computer and also break the routine.
We know it is difficult to choose, but who are your favourite artists, who inspires you?
Since I started painting I felt inspired by the greatest painters such as Matisse, Gaugin and Picasso. Then I started learning about illustration and found some that I really like: Blexbolex, Bruno Munari, David Merveille, Vincent Mahé, Puño, and many others!
Finally, Is there something you wish interviewers would ask you — but never do?
Favourite food. That is really important as says lot about people! Mine is cheese. Any kind!
Thank you!