davidjmcmillan.co.uk
instagram.com/davidjmcmillan
Hello, David!
What are you doing nowadays?
Well, 2017 has just started and I'm trying to get back into work-mode after the little break over the holidays. Thankfully I had started a project for Harper Collins just before Christmas so have that to go straight back to and finish over the next month. Apart from that, the Christmas break has given me some time to think about personal projects I want to work on this year, as well as some self-promotion to help pay the bills. Just trying to start the year in the best possible mindset for work.
Could you briefly tell us about yourself?
I'm originally from a little town in Northern Ireland called Ballynahinch. I left to study illustration in Bristol and graduated in 2013. I really loved the city, so I ended up staying, moving into a little studio space and giving this whole Illustration career thing a go. After two years I and my girlfriend felt we needed a change of scenery so packed up and moved to Berlin. I really fell in love with the city, and we met so many amazing people. We were there just over a year, but are now back in our respective hometowns for a bit.
I love your recent work for the 10×16 project. It's awesome! What is the story behind it?
Thank you very much. It originally started as a personal project between Portland-based illustrator/designers Eric Mortensen and Richard Perez. Over the years they've added more and more people into the mix. I had met both of them while visiting my brother in Portland two years ago and just kept in touch. When they were opening it up to more people this year, Eric contacted me saying he'd love to have me involved and I couldn't say no.
What is the most exciting part of being in the 10×16 project?
It is really nice to go back over the music of the last year and appreciate it all again. Although putting them in any kind of order is a very hard task. But the most exciting part for me was getting to be in a project with so many illustrators I admire. To see what everyone's favourites are, and how they interpret them in their own style. Music is such a big part of the work process. Discovering and listening to artists that help inspire you to make new things and motivate you in the studio. It's really fascinating to hear what other people like to work to.
Do you have any recent or upcoming projects that you're particularly excited about?
I have some personal projects I'm excited to work on over the next couple of months. My year has a few 'life' deadlines to work towards, such as moving out of Belfast and back to Bristol, so I want to make the most of the studio here and the resources of the city. I plan on making some more prints, learning how to work with textiles, and hopefully a small group exhibition before I leave.
Are there any dream projects that you want to work on in the future?
I would really love to make a picture book. In Berlin, my favourite bookshop was a little place called Mundo Azul. It had picture books from all over the world and was a constant inspiration every time we visited. It's really refreshing to see how you could tell a simple story in a beautifully graphic way. It didn't matter what language it was in; you knew what was happening through the images. I'd love the opportunity to do something like that.
Which colors do you find yourself drawn to?
When I go through my work, I tend to notice a lot of pink and yellow. I have a lot of swatches saved in Photoshop, but I do find myself gravitating towards the same bright colours every time. I also take a lot of inspiration from risographs. So I tend to stick to those colours I know I can print in, and overlay.
How does art/design/illustration change the way you view the world?
I like to think it's changed the way I observe the shape and colour in the world around me. Appreciating unseen lines and how things fit together. I love looking around, breaking down objects and people into simple shapes or colours to create something visually interesting or even slightly humorous. Since I don't draw facial features on my characters, getting across action and their personality through posture and shape is really important. It's made me enjoy people watching, and appreciate how unique every person is.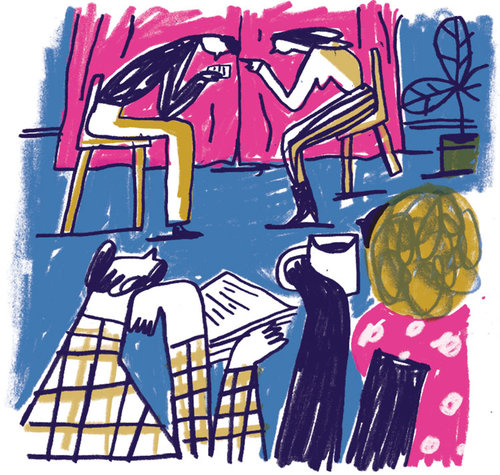 You're originally from Northern Ireland, how does the creative scene differ there compared to Berlin?
The illustration scene in Northern Ireland is still growing, and coming into its own which is great to see and be a small part of. With both Berlin and Bristol, they had an established creative scene and appreciation of illustration which was nice to walk straight into. There's always so much happening and a general atmosphere of those cities that really inspires you. Something I love about Germany and Berlin is its rich visual arts and printing history. We got to see a lot of exhibitions of Expressionist painters, Dada artists, and illustrators who captured the extravagant, and lurid nightlife of the city. I think that established visual culture, especially with subject matter I found so appeal really set Berlin apart for me.
Can creativity be learned later, or is it a feeling that is always within the human being?
I think we're all creative. We all use our creativity in different ways. Some people are creative thinkers and problem solvers; other use their creativity to interpret their thoughts and the world through images or making. As artists, we do learn to hone our skills and creative thinking whereas some people choose not to as they don't have a passion for it. But I think within everyone is an appreciation for creativity, even if some people don't feel especially creative. How things affect us, how advertising works on us, how we like one piece of art over another tap into that creative sensibility everyone has within them.
What does a typical day look like for you?
A typical day for me (these last few months in Belfast) is to get up early and head into the city to the UsFolk studio. I make a cup of coffee, catch up with whoever is in, probably check the internet for a bit, doing some admin things and then crack on with whatever work I have on at the time. It's been nice to have a studio space to come and work in these last few months. It's always good to have a sense of routine and that place were you just focus on making work.
What's your current album that you like to listen?
The 10×16 project had me listening to the same ten albums over and over again to get inspiration for the illustrations, and one of my favourites I kept coming back to was the Whitney album, Light Upon the Lake. One I discovered a little too late to add into my list was King Creosote's, Astronaut Meets Appleman. Really relaxing nice Scottish folk, with a surprisingly good use of bagpipes.
How do you keep yourself inspired?
Walks help a lot. In Berlin, if I was feeling a little uninspired, and especially since we worked from home, I found that a walk around the city and seeing all the people and beautiful architecture helped clear my head and give me some ideas to come back to. I really miss that. You can find a lot of funny situations and characters in a simple walk around your neighborhood.
What is your work set up like?
It feels like a basic little setup in my studio. I have my favourite mechanical pencil which I don't know what I'd do if I lost it (maybe buy a new one). I have a stack of crappy, cheap printer paper which I don't have to feel precious about messing up a drawing on, then all I need is my lightbox, a scanner, and my laptop. I draw everything in layers, building them up like a screenprint and then scan and composite it all, colouring the elements in Photoshop till I'm happy with it.
Are there any illustrators/artists/designers that we should know?
This is a difficult list to narrow down as I've been incredibly lucky to meet so many amazing and friendly illustrators over the years. But my top choice has to be, Jayde Perkin. I might be biased since she's my girlfriend, but she's also an incredibly talented illustrator and storyteller. She's my best friend and has helped and supported me so much since university. Our Berlin buddy and former housemate, Beth Walrond. Ellice Weaver and Till Luket, two great Berlin friends who make beautiful comics. Bristol buddies Ed Cheverton, Clare Owen & Rob Hodgson, and of course Mel, Paul, Jamie and all the UsFolk illustrators in Belfast.
jaydeperkin.com, bethwalrond.com, cargocollective.com/elliceweaver, www.lukat-land.de, cargocollective.com/edwardcheverton, www.clareowen.com, www.robhodgson.com,
usfolk.co.uk