dawidryski.pl
instagram.com/talkseek
Hello, Dawid!
Could you tell us a bit about yourself – who is Dawid Ryski?
A lucky guy who does what he loves and has money to live, another word I'm a guy who does what he likes and gets paid for it.
Seriously: I'm from Poland. Im a father of two amazing boys. We are living together with kids and my wife in a beautiful small city Puławy.
How would You describe your work/style to someone who hadn't seen it?
My friend described my style as a mixture of street art, skateboarding graphics and old books for children. Maybe he is right?
What is your favorite thing to draw?
I like to draw the promo posters for Sony music Poland. I love it because I have a free hand to create. A special bonus is a fact that I have a possibility to illustrate for great artists like Bruce Springsteen, Bob Dylan or Ryan Adams.
The same thing is with books for children.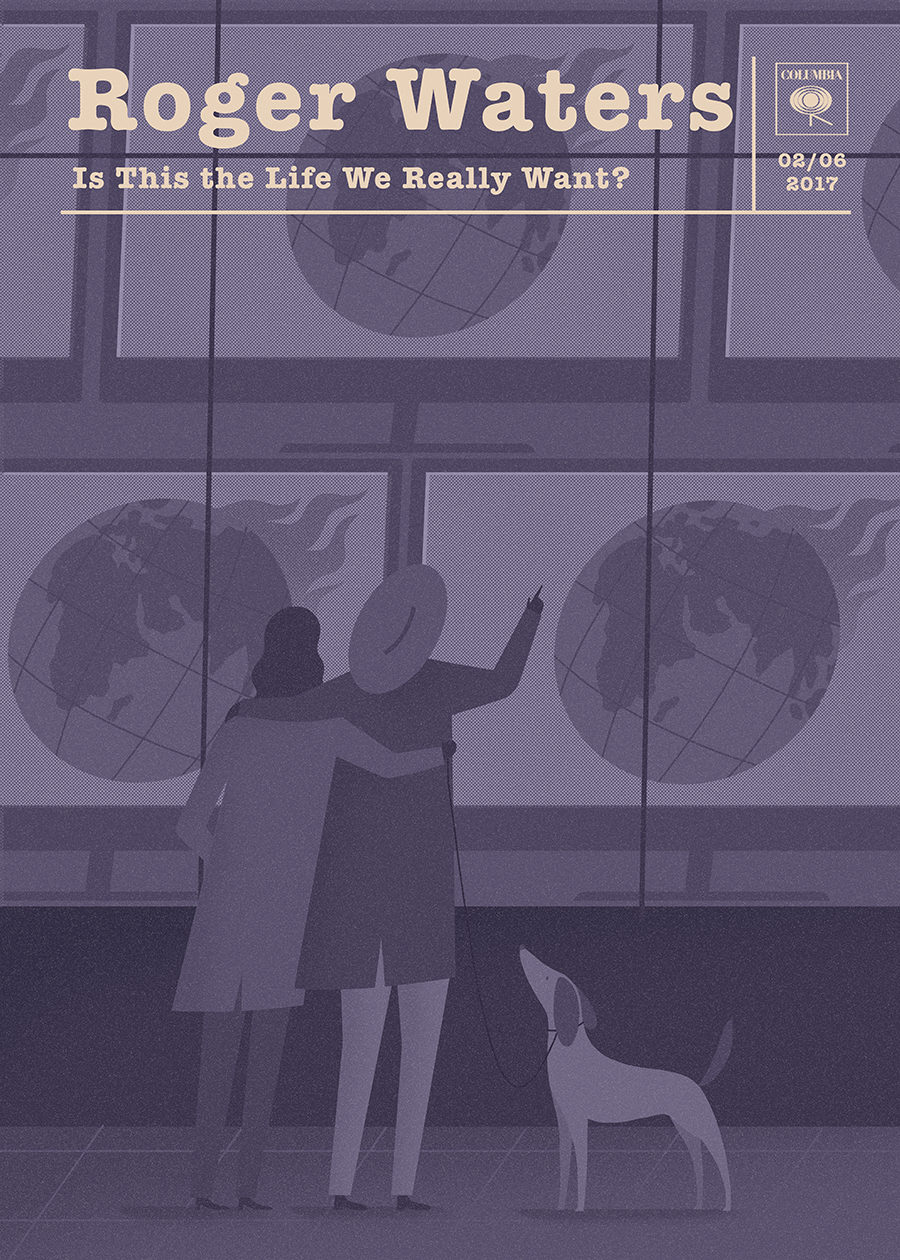 If you could create a show poster for any band (current or past) who would it be?
One day I hope to create a poster for somebody from Daptone Records (Manehan Street Band, Charles Bradley, The Mystery Lights, the Olympians or The Budos Band)
You've done lots of poster design. Which one was your favourite? What was that experience like?
Actually, I make lots of them. In fact, I do so many that I don't remember which one is my favorite 🙂 Of the most recent I like gig posters for Allah Las and Thundercat most.
You also have music bands "The Feral Trees" & Hidden World, what sort of music do you like to listen, what is playing on your music player?
I like different genres of music. My current playlist is a proof: The War On Drugs, Curtis Harding, C Duncan, The Black Angels, Baptists, Uncle Acid And The Deadbeats, Old Firm Casuals, Lee Fields…
Music is really important in my life. Every morning I spend a lot of time on searching good music to my work. I can't imagine work without soundtracks.
What are your top five songs on your playlist?
1. Curtis Harding – On and On
2. The Undertones – Teenage Kicks
3. The Black Angels – Currency
4. Converge – I Can Tell You About Pain
5. Blonde Redhead – 3'0 clock
Do you have a favourite Bowie song?
Probably It would be 'Suffragette City'. Maybe the reason is that a lot of my favorite punk bands played covers of this song.
If you could do your job in any era which one would you choose and why?
I'm keen on the music of the 60's/70's and on Polish School of Posters of that time. It would have been a great time for me to realize my ambitions.
Can the creativity be learned later, or is it a feeling that is always within the human being?
In my opinion, creativity is something you are born with. Everyone has some kind of talent, he eighter develops it or loses it on his way.
What are a few things inspiring you at the moment?
There are a lot: family, friends, old stamps from Eastern Europe, skateboard stickers from 90's, Polish books for children from 60's/70's and of course music.
What was your earliest ambition?
I come from a family with huge fire fighter traditions. My grandfather, father, and his brothers were firefighters.
When I was a kid I wanted to continue this tradition. It was my first ambition 🙂
If any readers find themselves in your town… Please give us your top tips!
Puławy is a sleepy town. Unfortunately, there are not many places for young people to go to.
Close to Puławy is a really attractive little town with a beautiful market place and old houses a rounded Kazimierz Dolny. It's a place of true artistic spirit.
Could you describe yourself in term of the following…
Music: Pop
Song: Summer of 69
Band: Roxette
Movie: Goonies
Colour: Red
Book: Children Of The Noisy Village – Astrid Lindgren
Animal: The Dog
Finally, Is there something you wish interviewers would ask you — but never do?
Less Talk, More Rock.
Thank you!