gosiaherba.pl
instagram.com/gosiaherba
Hello, Gosia!
What are you doing nowadays?
I've just finished a few big projects so I'm a bit tired. Earlier this year, there were two premieres of books for kids which I had illustrated. Now I need to relax and brace myself for new challenges. Aside from regular commissions, I'll work on my next picture book and a few other larger projects.

Could you please tell us your path to becoming an illustrator?
As most of us, illustrators, I've been drawing since I was a tot. It must have been a very strong penchant because I had never stopped. I had a few moments of doubt of course but somehow they always passed. Then I went on to attend the National School of Fine Arts in Wrocław and I received my diploma in jewelry-making. After the high-shool, I started Art History studies at University, focusing on the history of illustration. Art history has always been my passion. Same as the anthropology, although this field is just my little hobby. Thanks to the Art History studies I gained some essential knowledge. I learned how to think, how to observe. One day I decided to try my hand at an illustrator career. It felt like a very natural choice. I had prepared my portfolio and sent it to many Polish publishers. And I got my first commission! It was nearly 10 years ago.
How would you describe your artistic style? And when you are looking back at the past years, how do you see your style changing?
I aim to create colourful, bold compositions based on geometrization and simplification of forms. My older illustrations were too complicated and too realistic; now I try to focus on the synthesis and abstraction.
You have a comic book, Fertility, created with Mikołaj Pasiński. Could you please tell us the story behind it?
Fertility is our debut graphic novel dedicated to adults. It's a wordless, a bit folkish in mood, story inspired by old beliefs, strange notations from ancient encyclopaedias and lexicons. It tells the story of four soon-to-be-married country girls which, inspired by an old almanac, set out on an expedition to trap a wild hare in order to obtain its rennet.
Rennet is a digestive enzyme produced in the stomachs of certain mammals. Nowadays, this enzyme is used to produce cheese, for instance. For centuries it was believed that if a woman had eaten hare rennet she would have had better chance to conceive a boy. You can read about it in Pliny's Natural History or in Sylwan: A Collection of Forest and Hunting Teachings and Laws.
This is only a starting point for a story about a clash of two worlds which are governed by different laws. The girls, who want to meet the cultural expectations of their world, disrupt the hare-kingdom order and suffer horrible consequences. Fertility is, at first, the motivation of the characters; later it turns out to be their punishment.
We obviously see that you use blue colour a lot in your works. Do you have any particular reason to use that colour?
Well, you got me there. Blue colour has so many beautiful shades, nuances. It has a great potential. I like to appose bluish tones with other colours. Each combination gives a different mood.
Can the creativity be learned later, or is it a feeling that is always within the human being?
It's a lifelong learning. If you exercise your brain from an early age you'll become a clever adult, hopefully. Some people are born with super powers but I believe in achieving things through hard work. Each of us has some potential but it takes a lot of time and work to realize it.
You also have an online shop where you sell prints. When and why did you decide to start this?
I was receiving a lot of questions from people wanting to buy my illustrations. So I decided to open my store with limited-edition prints and original artworks. Good print quality is very important to me. That's why my prints are made by a professional team in a local studio. I'm a quite new to this business. My shop's been online for 2-3 years. It's fun to be aware that my illustrations live in various places around the world. Besides, I can earn some money for my vacations.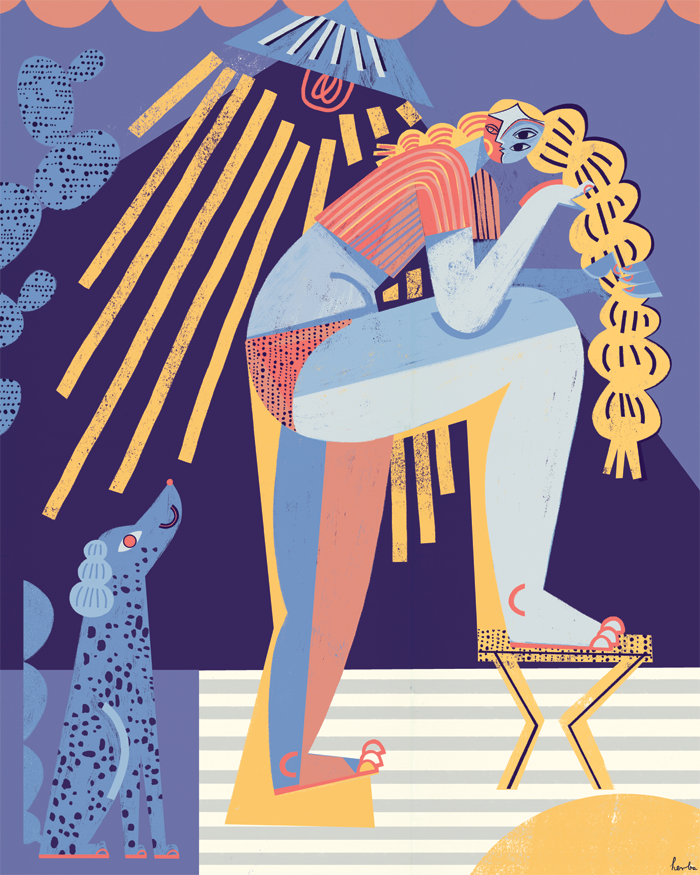 What does a typical day look like for you?
You could get the impression that my life is rather boring. Because I'm quite busy and I have so many things to draw I need to plan my days carefully. My studio is also a part of my apartment so I must try to keep a stiff upper lip. I draw every day. I wake up at 8:30 – 9:00 a.m., I drink coffee and read e-mails. After the breakfast, there is a time some physical activity – usually, I ride on my spinning-bike while watching tv shows. At 11:00 a.m. I start my work. My day usually ends at 8:00 p.m., though sometimes I work until midnight. By night I read books and watch movies.
What inspires you to create such amazing illustrations/paintings?
Thank you for your kind words! I really appreciate Gothic painting and medieval sacral sculpture. I admire colour and composition in Japanese prints. I also rave about contemporary comic art. My hobby is cultural anthropology, iconography, and the history of mirabilia. I read a lot of stories about humans, their rituals and practices which are often weird and funny. So I guess human culture is my greatest source of inspiration.
Is there any designer/artist /illustrator from the past, you appreciate a lot?
It could be an acutely long list – beginning with Piero della Francesca, Paolo Ucello, Diego Velázquez, Paul Cézanne ending with Matisse, Leger, Balthus, Cy Twombly, Fortunato Depero, Frans Masereel, Eisner, Moebius, Tove Jansson or Lora Lamm. These are only a few names I admire.

What are your top five songs on your playlist?
I have to admit I listen to BBC radio drama during my work day mostly. We also listen to a lot of music at home, so the playlist changes constantly. Some of my favorite records (recently) are:
1. BadBadNotGood – IV
2. Shabaka and the Ancestors – Wisdom of Elders
3. Kendrick Lamar – To Pimp a Butterfly
4. Colin Stetson and Sarah Neufeld – Never Were the way She Was
5. Quasimoto – The Unseen
If you weren't an illustrator, what would you be doing?
Eating ice-cream and crying.
Finally, Is there something you wish interviewers would ask you — but never do?
I would like to tell you how great the life of an illustrator really is. Every day brings new adventures. Even during very busy periods, it's like a pleasant play. I draw and laugh mostly. It's so much fun.
Thank you!
gosiaherba.pl
instagram.com/gosiaherba