instagram.com/laurenrolwing
laurenrolwing.com
Hello, Lauren!
Could you tell us about your path to illustration?
Sure, I always knew I wanted to study art. It wasn't until I got to art school that I realized just how many different paths there are to take in the field of art. I studied Fine Art for a year, but I felt like I needed something more specific and focused. I was also working part-time at a boutique as I have always loved fashion, so I decided to transfer to a larger school to study fashion design. When I got there, I loved all of my foundation classes, but still didn't feel like fashion was the program for me. I took many electives trying to find where I belonged and loved the printmaking department. At the time, it was only a minor, so when I was talking to my professor about not having a major, he said: "illustration, of course!". I had never even thought of illustration as a major. I signed up for an intro course based on his recommendation, and immediately felt at home! I think I love illustration so much as I see it as a form of problem-solving. In brief, I look for the problem and think of ways I can solve it visually.
Could you talk about your creative process a bit?
I always start by researching the subject. I will start to write down lists of words that can work as symbols for different elements of the illustration. Then, I try to think of different ways to tie these separate elements together visually. I usually work very quickly after I get an idea. I like to start on the computer with color right away. I will often get an idea in my head, and I will see it in color. Since color is such an important element to my work, I don't like to see it in black and white, so I will not do detailed, pencil sketches.
How would you define your style in three words?
Colorful, minimal, and with a sense of humor
As you said; your illustrations are colorful. If you would like to be a color, which would you like to be?
I would say a bright yellow.
You also have some fashion illustrations. What draws you in fashion? Could you please tell us about it?
I see fashion as an ultimate form of expression. I love the drama of it all. I am fascinated by the history of fashion as well, and specifically how fashion evolves based on larger cultural shifts in the world. I having been teaching workshops in the summer times for children based on this very subject. It is so much fun, and I love to see the kids' reactions when we look at historic, fashion photographs.
What experiences have you had in the past year that have influenced your work or creativity?
I learn so much from every brief and art director that I work with that it influences my work moving forward. I have also spent, and continue to spend, time volunteering for Bernie Sanders. There were so many powerful moments during his campaign that I will never forget.
Is there any time that your creativity is blocked? How do you deal with it?
Yes! I really think that this happens to everyone. When I first started working, this would really stress me out a lot. It still does at times, especially when the deadline is tight. I think the best thing to do is to walk away from it for a bit, but this has to be after all of the research is done. I always start with research and creating mind maps. If nothing is coming to mind after that, for me, that means it is time to take a short break. So many times, I will get an idea when I am doing something routine and mindless, like folding laundry.
Can the creativity be learned later, or is it a feeling that is always within the human being?
I think that every child is creative naturally. I love working with children in the summers, and I am always mesmerized to see how creative they are. Gianni Rodari talks about this in his amazing book, The Grammar of Fantasy: An Introduction to the Art of Inventing Stories. I am so lucky that I have two extremely creative parents, so creativity was something that was always encouraged in my home growing up. I love the quote by Picasso: "It took me four years to paint like Raphael, but a lifetime to paint like a child." I think it is not about learning how to be creative later on in life but finding a way to bring back the creativity that is naturally present in every child.
You also have a ceramic line named Laundrymat. Could you please tell us a little about it?
Since I work on the computer to illustrate most days, I was looking for something to do that was creative, not involving the computer, and that would get my hands dirty, and pottery came to mind. I have always been clumsy, and I came up with the idea to have a line of ceramic clothes that would actually be intended to put food on. I experimented with different ways to do this and Laundrymat is what came of this experiment.
Do you have any recent or upcoming projects that you're particularly excited about?
I am really excited about continuing to work freelance. Each day is exciting because I never know what I will be working on. I hope to set aside more time this year for personal projects as well.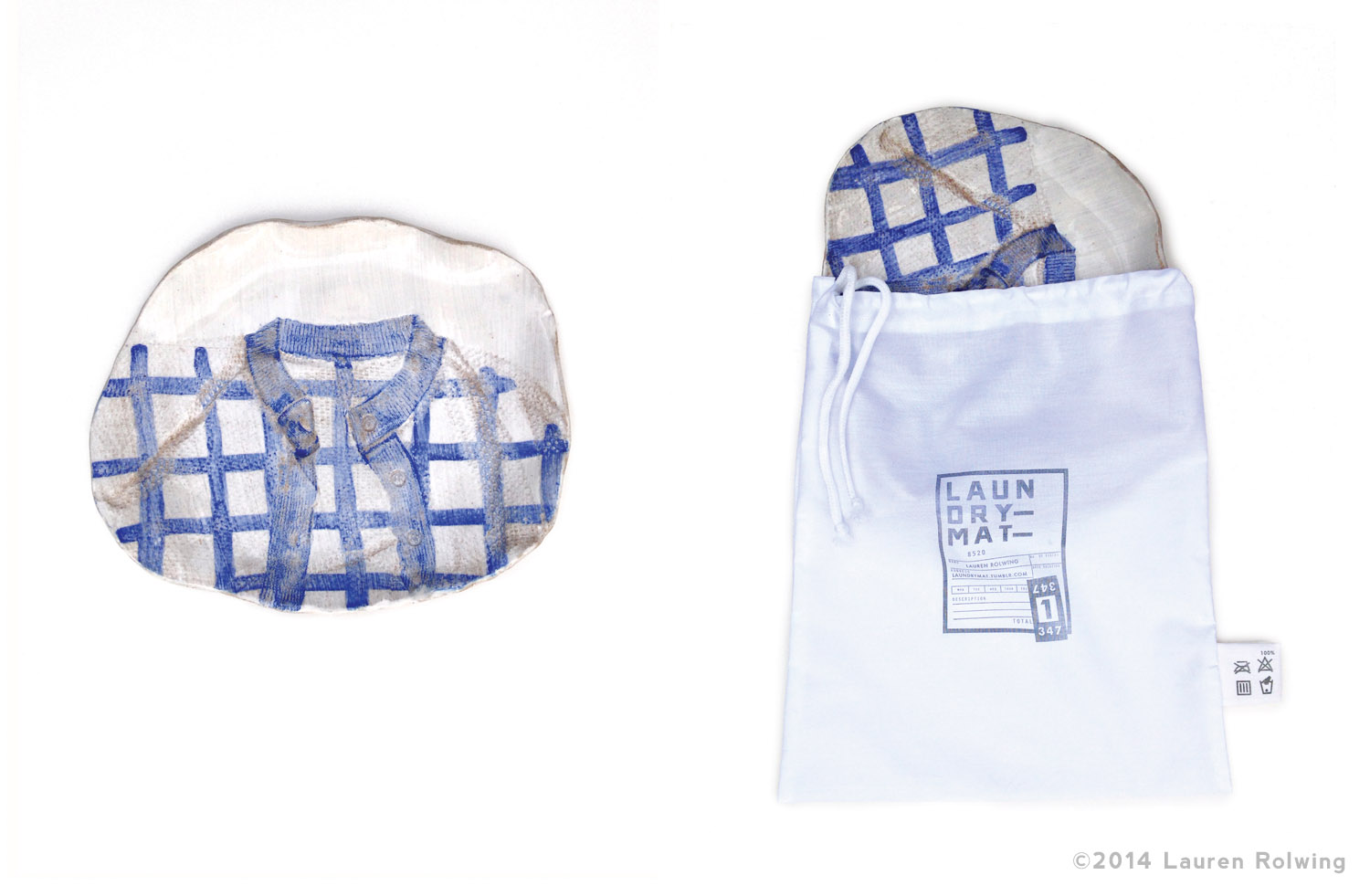 What's inspiring to you these days?
I continue to be very inspired by movies, or maybe I just use that as an excuse to watch more films. I finally got to watch Interiors by Woody Allen, and I am in love with it. Not only does it star Diane Keaton, but the spaces in this movie are absolutely incredible.
What does a typical day look like for you? Do you have any daily routines?
Everyday is different for me. I hate routines. However, I did read and appreciate The Creative Habit by Twyla Tharp, so I am starting to incorporate a more set way to work. For me, I like to go about working in the same way, but just not at a specific time or place each day. I think this is what drew me to work freelance.
Do you any have websites that you visit daily for inspiration?
When I started teaching, I began to use Pinterest to keep track of my ideas for projects, and now I use it everyday. It is a great place to reference images for mood boards, which I have also started making for a lot of my illustrations, especially series of illustrations. I did a series for Refinery29's social media, and they asked me to provide a mood board with my concepts. I was so excited to do this, as I hadn't made a proper mood board since school, and I always loved making them.
Are there any illustrators/artists/designers that we should know?
I am inspired by so many of the great designers and illustrators, but if I had to pick one, it would be the work of Květa Pacovská. Seeing her work in college changed everything for me. One professor was encouraging me to work realistically, which was making me somewhat miserable. Another professor recognized this in me and showed me Květa Pacovská's work. It had such a profound effect on me and immediately changed everything for me. I started having fun creating illustrations again and using cut paper to create my compositions. I don't use cut paper anymore, but I think being so inspired by this graphic aesthetic early on greatly influenced my style.
Finally, Is there something you wish interviewers would ask you — but never do?
Sure, let's go with some movie recommendations.
Some of my favorites are Paris, Texas, Alice in the Cities, Anything by Woody Allen or Jacques Tati, Metropolitan, Whatever Happened To Baby Jane, (Can it really get any better than Bette Davis and Joan Crawford at each other's throats?) Night of the Hunter…. If anyone has any suggestions for me, please send them my way! Also, I just watched Karl Lagerfeld Sketches His Life and loved every moment.