markconlan.com
instagram.com/markconlan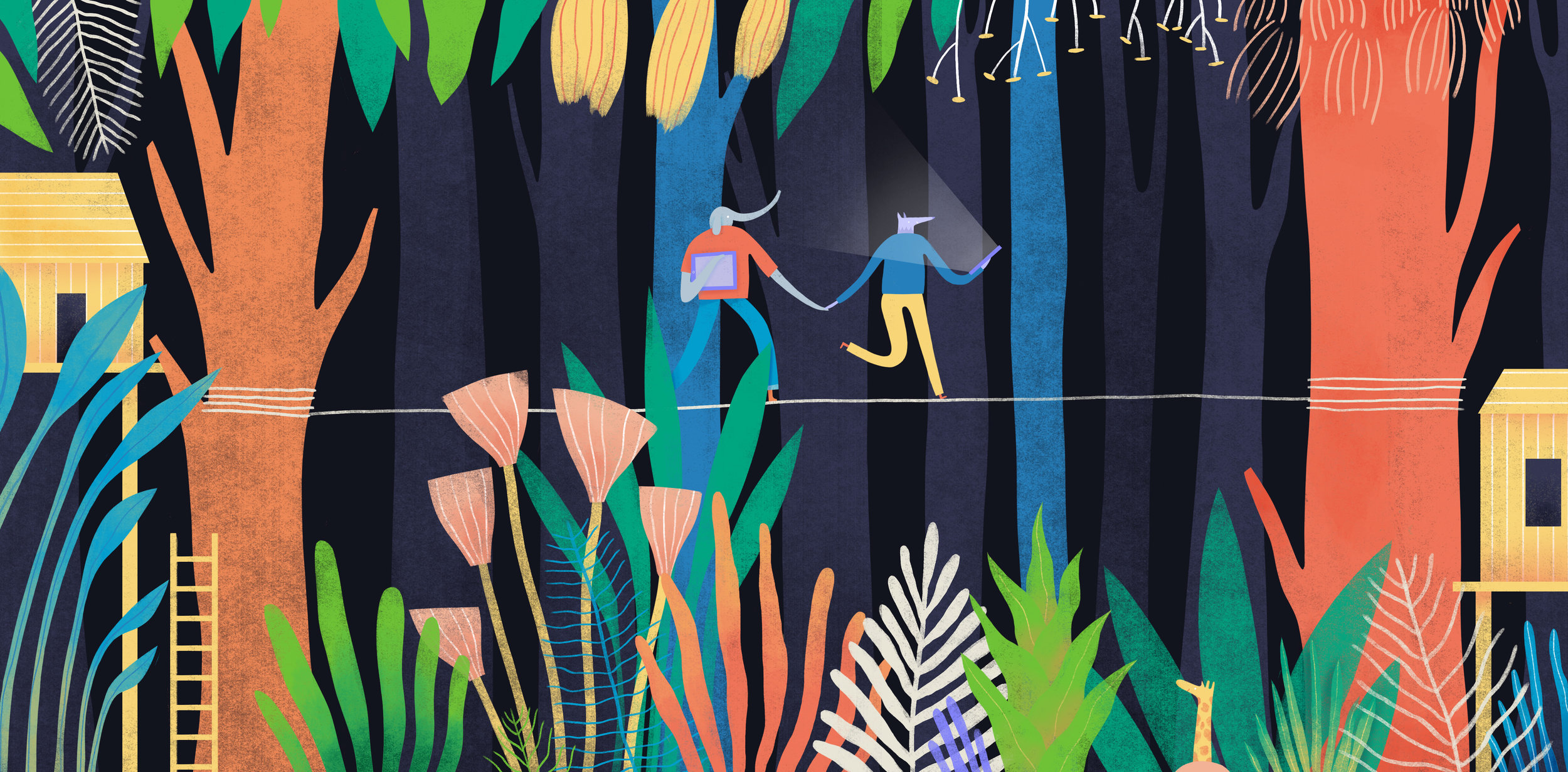 Hello, Mark!
What are you doing nowadays?
I'm trying to work less but that never seems to work out in my favour. I just seem to land another job when I wrap one up. Man, I can't complain. I actually do what I love and get paid for it. Apart from that, I try to keep it simple these days. Exercise, Draw, Friends, Plants, Tattoos and Eat. Hopefully, I'll have a new dog (studio partner) soon, so that will probably take up most of my day, can't wait.
How would you describe yourself – who is Mark Conlan?
I'm a super passionate creative, who feels out of sorts when I am not applying myself in some creative manor. I find solace in a sketchbook and surrounded by plants in our perfect little home. I'm from Dublin, Ireland so I guess I am quite well traveled as well as open-minded. Although I miss my family every day, I am super grateful of the opportunity and experience I get from living in another country.
What is your favourite part of being an illustrator?
The ability to communicate to people on a level that provokes a reaction whether good or bad. The ability to be able to dictate mood by the use of a line, shape or colour. Or even the ability to change your own mood with altering the direction of the mark you make! But honestly, getting to collaborate with some amazing creative and like-minded people while retaining your own voice is to me, perfect.
What is your earliest memory of drawing/illustrating?
I've always been into drawing and painting since a very young age. I would scribble on any kind of surface that I was given. Every present I received from family and friends was an art set, sketchbook or something along those lines. So I was always encouraged from the start. I would always say that I wanted to be a cartoonist. I wasn't far off in the end.
How would like to describe your creative style?
I always find it hard to place a description on my style. I feel it's constantly evolving as I develop further as an Illustrator. If I had to put a label on it. It would be conceptual focusing on a strong use of character and nature empowered by whimsical and emotional situations.
Where do your ideas for colour combinations come from?
I think my colours derive from all areas of inspiration. Some come from nature, some from colours all around me. I think when your constantly looking at other illustrators and their beautiful work, you can't help but be inspired by their choice of colour. There are also some amazing websites which are bursting with colour inspiration.
Can the creativity be learned later, or is it a feeling that is always within the human being?
I think creativity is innate. It's there but it's kind of up to us to explore this creativity and keep it beating. I definitely think like anything, the more you practice the further the creativity can be developed. As I'm constantly inspired by things around me on a daily basis, I find a sketchbook is a great way for me to explore this creativity/inspiration and help me grow as an artist.
What other illustrators/animators are you digging these days?
I have just finished working with a crazy talented animator James Mabery. I adore the work of so many creatives but to reign it in a little. Tom Haugomat, Abbey Lossing, Lisk Feng, Raul Soria and Jun Cen.
What is your favourite publication for illustration?
Sadly, I am not very aware of loads of publications. I'd love if some one could recommend some maybe? I often spend some time checking out It's Nice That. Most of the illustration I come across is on social media nowadays, although you cant really read much there or learn more about other artists.
Do you have a daily routine or anything specific you find yourself coming back to regularly when working?
Most days, I try get up and go for a run or go to the gym before getting started on my working day. I'll then unravel the day and plan with a cup of coffee and some breakfast. Depending on what I have on for the day, I'll always try to spend some time sketching. I think it's crucial for releasing the creative block and keeping the ideas flowing. I like to have a few different projects on the go, this way I can switch between them. This keeps it interesting and keeps me busy.
Where are your favorite spots in Melbourne? Food, coffee, shops, etc.
Melbourne has an abundance of sweet spots, I am still discovering new places on a weekly basis. It's not often you go somewhere and get a bad coffee. Greville Street in Prahran has got some great little shops, also an awesome little print shop. Some of my favourite spots are away from the shops and along with nature. There is a city trail that goes right by our house. There are so many little spots along the trail you can sit down and watch river and the world go by.
You've lived in Dublin & London and now landed in Australia. What drew you to Melbourne?
When I lived in London, I met my lovely girlfriend. She is from Melbourne. So after some time in London, we did some travelling and ended up in Melbourne. Its such a fantastic city full of inspiration, sunshine and amazing creatives. I think it would be very hard to go back now.
How does travelling/living in another country affect your creativity?
This is something I think about often. How has my creativity changed along the journey? I definitely think since arriving in Melbourne, its opened my eyes to the world of Illustration. I was working as a designer up until two years ago. I think moving to a new climate gave me the drive to go out and try being an illustrator. I haven't looked back since. I also think when you move to a new country you have a lot more determination to succeed, you don't want to have to head home six months later because you didn't apply yourself.
What or who inspires you visually?
I don't think I am ever really inspired by one thing. I am inspired on a daily basis by so many things around me. If it's not a nice new colour palette I discovered, its a beautiful piece of illustration from some illustrator I admire, it's the blue sky or simply a little bird landing on the tree next to my studio window. I think inspiration comes from everywhere, we just got to keep our minds open.
Finally, Is there something you wish interviewers would ask you — but never do?
Not particularly, I think a nice mix of questions like this gives great balance to an interview, so you nailed it there.
Thank you!
markconlan.com
instagram.com/markconlan