tiagogalo.com
instagram.com/tiago.galo
Hello, Tiago!
You are an architect and doing illustrations as we see now. How would you describe your journey into the illustration?
I would describe my journey to be about an illustrator that wanted to be an architect that wanted to be an illustrator. I always had this fascination for comics as a kid and as I grew up I started out with some friends making small home-made fanzines and collaborating with school publications. As I pursued that, architecture also made its impact, mostly when I started studying the Bauhaus movement in which painting, design, and architecture were getting influenced by one another. It gave me the sense that I could still get myself involved with all of them if I pursued architecture. But in the end working as an architect turned out to be such an intense and overwhelming experience that really didn't make any space left for other things to happen, so for a while, I left illustration aside. Since this wasn't keeping me happy, I had to leave architecture behind and started studying art direction which seemed a great way to get back on track to pursue design and illustration. I started to participate in illustration and comics competitions and even won some. That made me realize that I was on the right track.
How did you develop your visual language which we see in your work?
I guess the early twenties artists, specially the cubists and surrealists, played a great part on my visual imaginary. The solid colors and big geometric shapes always drawn my attention since I was studying them in my art history classes at architecture school. I still turn to them when I need some guidance.
The characters that you draw have exaggerated physical proportions. Do you have any specific reason to draw them like this?
Maybe I got it from the cubist artists I admire. I think I just like to get away from the obvious.
In 2011 you won the prize for best comic at the Amadora BD competition. Could you please tell us the story behind it?
I was working as a full-time architect when I decided to enter this competition completely out of the blue. Even though the idea of being a professional illustrator was growing inside of me from quite some time now, I really needed some kind of sign that would be making me quit architecture. So winning it was a major boost to change my life around. After that, I couldn't ignore it anymore and decided to be an illustrator. Best decision ever.
What are your favourite comic books?
Corto Maltese series by Hugo Pratt and Ghost World by Daniel Clowes.
What was the first thing you draw as a kid, do you remember?
I remember having trouble drawing the web out of spiderman suit.
What can illustrator teach other illustrators?
Knowing the work of other illustrators is an important part of the learning process of any illustrator. More than just appreciate drawing techniques and visual languages out of their work, it´s important to learn about their backgrounds and how they got there. Seeing some of the work of the best illustrators out there makes me want to be as good as they.
Can the creativity be learned later, or is it a feeling that is always within the human being?
It´s an interesting question. I guess that creativity starts developing early as we grow up and within the paths that we choose to follow, you eventually end up turning as creative as all those experiences made you act and feel.
If you weren't an illustrator, what would you be doing?
Working as an architect.
What is a day in the life of Tiago Galo like?
I always say that my day starts and ends picking up my dog´s poo. I usually get up and walk the dog outside. After a shower and a big mug of coffee, I sit down at my work space and spend a while trying to absorb something out of anything that I had seen or read lately to start drawing. In the after-noon, I usually go for a walk to just let old stuff out and empty my head.
In the evening I usually see a movie and read a little. Before I go to bed I go walk my dog.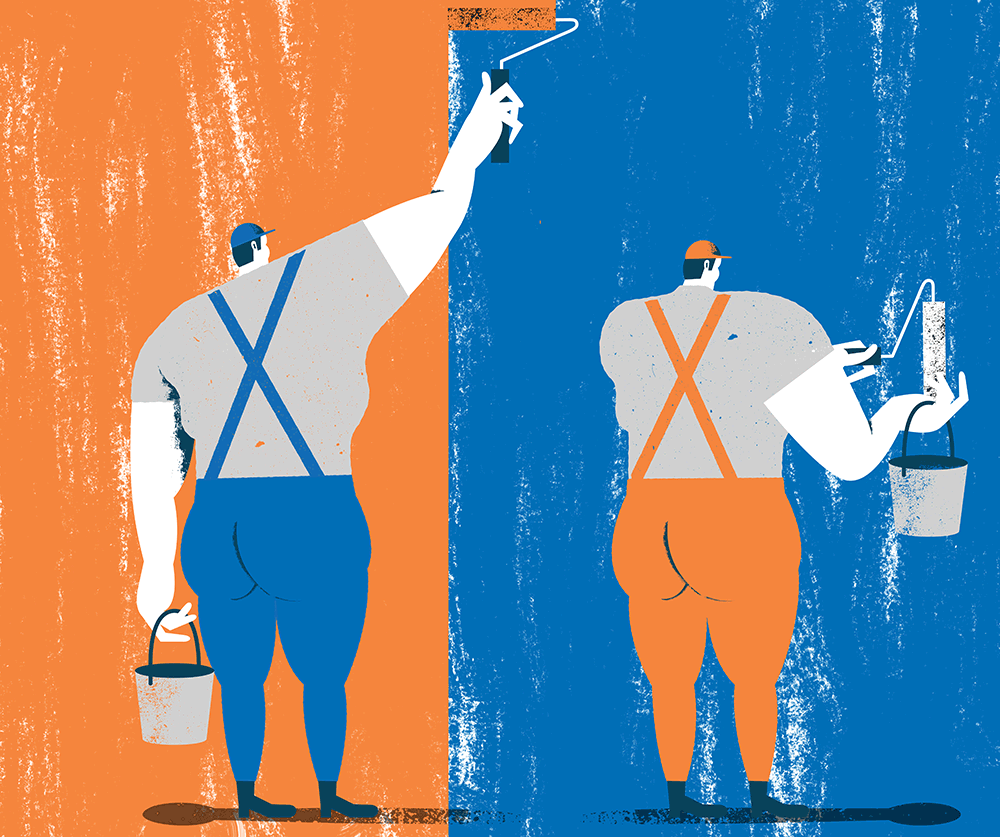 Is there a book which opened your eyes about design/ illustration?
It´s difficult to me to just name one, but if I really had to choose I would go to any catalog or monographs of the Bauhaus movement.
What are your top five songs on your playlist?
Who are your illustration heroes?
Joost Schmidt, Juan Miró, Pablo Picasso, Stuart Davis and Jacob Lawrence just to name a few.
Finally, Is there something you wish interviewers would ask you — but never do?
I guess you have covered that up 😉
Thank you!
tiagogalo.com
instagram.com/tiago.galo