zwartekoffie.com
instagram.com/zwartekoffie
Hello, Timo!
How did your interest in illustration/design begin? Was there a piece of art/design/illustration that inspired you?
As a kid, I loved the Dutch graphic designer M.C. Escher with his visual trickery. I think my dad got me a book about his work from the library and I saw his exhibition in The Hague. And I remember going to a museum about cryptography when I was young, which made me interested in systems and typography. Still know one of those secret languages by heart.
My interest for design got really sparked by the internet. Using a computer to make stuff, which meant making websites and playing around with animations in Flash.
How would you define your aesthetic in three words?
I think my aesthetic can be described as graphic, bold, minimal.
Why do you do what you do?
I made a clear switch from graphic design to illustration a couple of years ago. I'm super happy to be drawing most of my days and like how fast the medium is. It's in a way addictive to make stuff and I get a bit itchy when I'm not making for a while.
How do ideas come to you?
Can be anything really. I think partly consuming stuff which can be a movie, book, artwork, music etc. Or the opposite, being on a holiday.
What other illustrators are you digging these days?
Yesterday I stumbled upon the work of Alex Gee, an Australian designer. Love the dreamy vibes and textures of his animations. Giacomo Bagnara has some great concepts, always jealous of how smart his ideas are. And Nadia Hafid's high contrast work is really attractive.
Where do you get your inspiration from?
By following a bunch of illustrators, designers and animators I admire. Their output inspires me.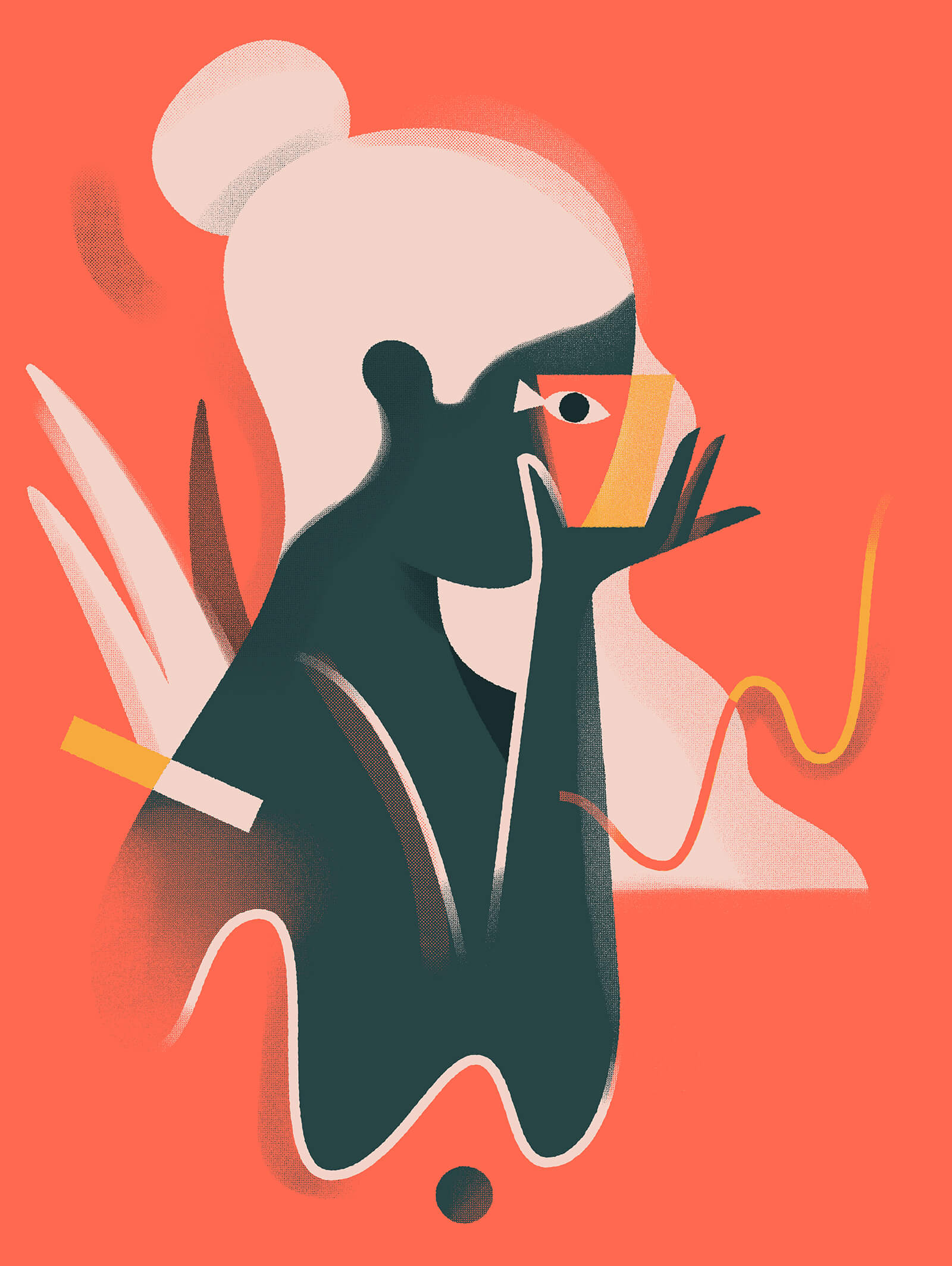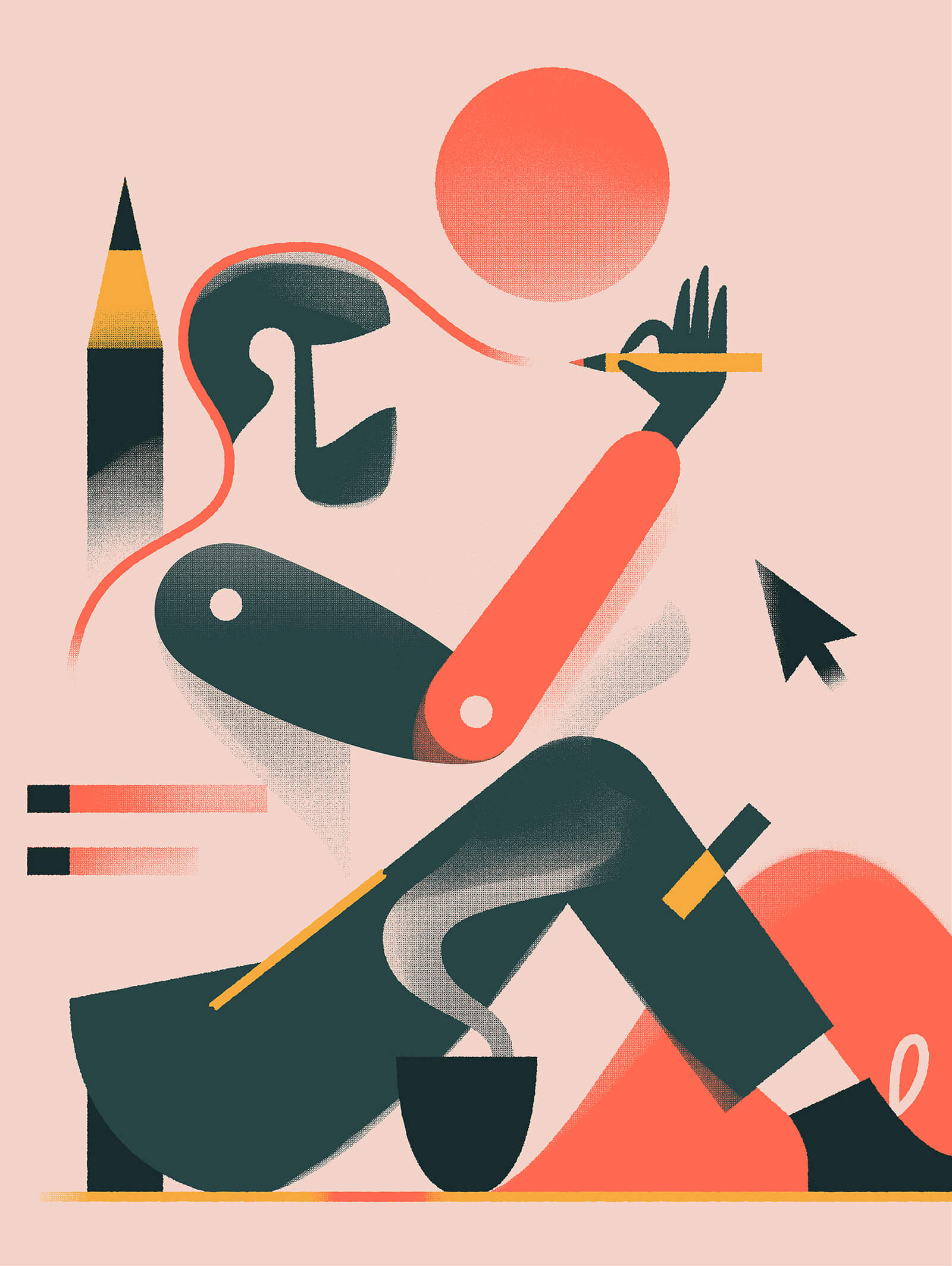 Can the creativity be learned later, or is it a feeling that is always within the human being?
The latter. Some people explore it just a bit more.
What is your daily life like?
Most of my days I don't set an alarm so I wake up quite late, between 8.30 and 9 AM. I walk my dog and go to the studio. Which is in the heart of Amsterdam and I share with some fellow designers and illustrators: Jeroen Krielaars, Frederique Matti, and Thomas Rohlfs.
Who is your favourite illustrator/designer of all time and why?
Geoff McFetridge, because for me he was one of the first illustrators with the stripped back aesthetic. And he makes really smart work. Reducing stuff to their most simple form. I think I first saw his work because of the Whitest Boy Alive artworks he did.
If you were taking a road trip tomorrow what five tracks would you lead off with?
I just came back from a concert by Max Richter called Sleep which lasted the whole night. You had to bring your pyjamas and a sleeping bag. It was like an 8-hour lullaby. It would be hard to stay awake though during driving, so I would mix it up with:
If any readers find themselves in your town… Please give us your top tips!
We already have too much tourists in Amsterdam, so please stay away. Seriously though I would recommend going to Stedelijk, a modern art museum. And the north of Amsterdam, on the other side of the IJ (river), is quite popular nowadays. I would definitely recommend taking the ferry there.
Where is your favourite place in the world?
Not sure if it's my favourite place since it also has quite a few downsides, but I really liked being in Capetown. Great combination of city and nature. And great wines of course.
Could you describe yourself in term of the following…
Colour: Black or White
Location: Amsterdam
Symbol: Ampersand
Cartoon Character: Storm (Don Lawrence)
Beverage: Coffee
Movie: E.T.
Song: Radiohead – Idioteque
Finally, Is there something you wish interviewers would ask you — but never do?
Nope, happy I made it to the end of this one! Writing down my thoughts is definitely harder than drawing them.