z-e-b-u.com
instagram.com/z_e_b_u
Hello, ZEBU!
First of all, how would you introduce ZEBU to readers?
ZEBU is a creative duo from Berlin which is active in the field of illustration and screenprinting since late 2015.
How did you come all together? What is the story behind ZEBU?
We have our roots in the graffiti and urban art culture. Back then we were a bunch of teenage friends full of crazy ideas who liked to paint, draw and hang out together. With the years we got into screen printing and made our first steps into the design world, attending art school and doing small commissions. We both have been working together for about 5 years and since almost two years we work under the name of ZEBU.
What or who inspires you visually?
There are lots of artists who's work we admire and which is inspiring us like Joan Miró, Henri Matisse, Hans Ticha, Stuart Davies, Blex Bolex, Willi Baumeister and many more. But we also love to discover unknown folk artists which have a unique and own visual language. We also get a lot of inspiration from colors and shapes which are around us in our everyday lifes, things you discover during a walk or at a friend's place by accident.
We love your recent work that you designed wheelchair spoke guard for @izzywheels! We would like to hear more about this.
Izzywheels is run by Ailbhe, who started this project in her final year of Art College where she undertook a project to empower the lives of people living with a long-term health condition. She created a range of stylish spoke guards for the wheelchair of her sister Izzy. Izzy was born with a spinal condition called Spina Bifida and is paralyzed from her waist down. She is modeling for the spoke guards from the collection, for which they invite artists to collaborate with them.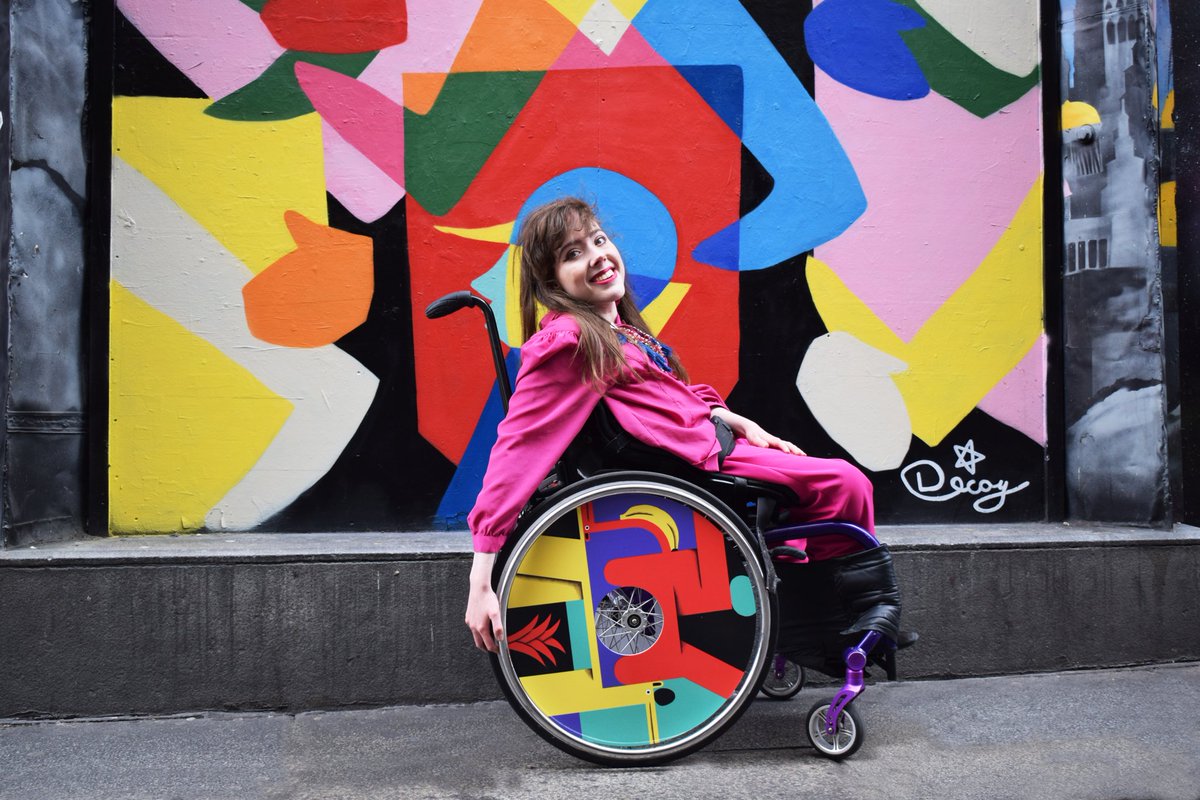 How would you describe your creative/illustrative style?
Our work is bold, reduced and humorous. We like to experiment with different materials and techniques to always surprise ourselves. In the last years screen printing small editions and zines was a big part of our work and lately, we worked on a series of originals using acrylic paints.
Besides drawing/ screen printing, zines and murals have been a part of your work. What's your favourite medium?
We do not really have one favorite medium. For us, it's important to keep a balance between all these different ways of working. But since we grew up in the graffiti culture we still have a passion for working on walls and surfaces in public space. Also, working on a mural is a welcome variety to the daily life in the studio which we really enjoy.
Can the creativity be learned later, or is it a feeling that is always within the human being?
There are a lot of techniques for creative working which can be learned, but what's more important is that you bring a passion for creating. You need to have an irresistible desire to create something out of your own.
You have a lot of mural paintings in different cities/countries. That would be super cool! Could you give us some insight into your creative process? How do you start?
We usually start with sketching our ideas on paper together. Each one is reacting on the input of the other person and that way we create an image/idea. For the murals, we usually have a color combination in mind but it often changes when buying the paint or directly on the wall during the process.
How's the busy life of ZEBU going?
Busy but happy.
What's on your studio playlist?
We are actually listening to a German news radio station most of the time. It might not be the most exciting thing but we are always well informed 🙂
What do you like to do when you want to take a break from illustrating/ designing?
We love to take walks, just go around town or nature and explore places. It's also one of our techniques when we get stuck in the creative process. Going out, thinking about things you see suddenly brings you the ideas you have been looking for on the drawing desk.
What was the last movie you saw at the cinema?
It was Moonlight by Barry Jenkins.
What do you like best about your neighborhood in Berlin?
Berlin is our hometown so we have a lot of friends and family here. Also, this city is full of galleries, museums, agencies, and studios. It's a good place to find people to collaborate and work with. This creative exchange gives us a lot of inspiration for our daily work.
If any readers find themselves in your town…. please give us your top tips!
-Get a bike and just bike around the city
-The botanical garden in Dahlem is located in the south part of Berlin and they have the most beautiful greenhouse in the city! Great place to get inspiration from the plant forms or to have a little picknick.
-Check out the overwhelming amount of good galleries, openings and museums like Hamburger Bahnhof, Martin Gropius Bau, Museum der Dinge, Neurotitan…
-Take a day trip to one of the many many lakes around Berlin
-Have a lot of Späti Beers
Finally, Is there something you wish interviewers would ask you — but never do?
If they can invite us for pizza.
Thank you!
z-e-b-u.com
instagram.com/z_e_b_u