styleillustrated.tumblr.com
amashanov.tumblr.com
instagram.com/amashanov
Hello, Andrew!
Could you tell us a little about yourself?
I'm an illustrator, 27 years old, based in Moscow. Have a great passion for all things vintage and retro: from music and clothes to architecture and movies.
How did you come in contact with illustration?
When I was studying Advertising in University, some lectures were extremely boring. So I began to take a sketchbook and pencil. Now I think most of them were awful, but I posted it in my blog, were it was found by my first client – "Popular Finances" magazine. Way back in November of 2006.
How important is drawing to you?
It is my way of telling stories, sharing images and fantasies – you know, one picture may say more than a thousand words. Looks like I've been doing illustration for quite a long time, so it really became a part of the way I see and realise the world around.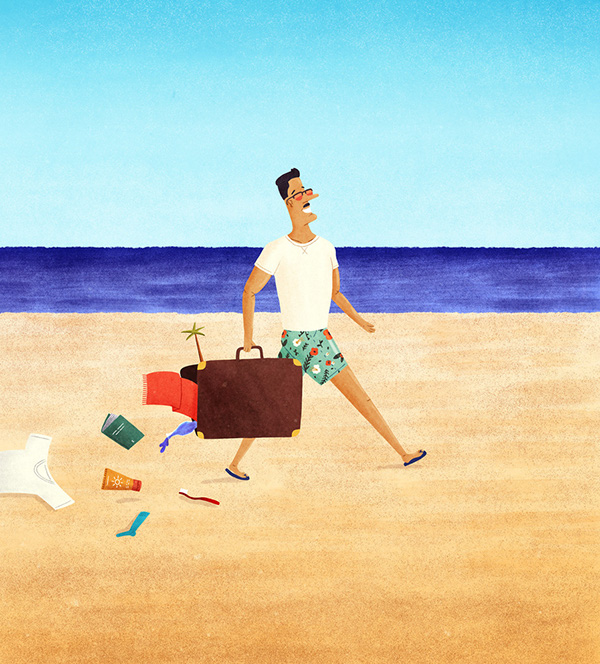 What influences your creative explorations?
Vintage artists and illustrations, music…all these things from different artists and genres, but within 1930-70's era, anyway.
You've worked with GQ Russia, Barbour, Stuart & Lau, Highsnobiety, so on. What are some of your favourite publications?
Each project is a precious experience for me, so I'm not sure that it's possible to one favourite and other not favourite. But there were some projects where my artworks appeared from unexpected point of view. Barbour Summer campaign was one of it: my illustrations were made to Barbour's order, but for real people. So one man, who spent a weekend with his family in countryside could wake up and find his story illustrated and published at official Barbour account in Facebook or Instagram – I've never saw a big brand making step to his client so close. And it was a great pleasure for me to be a part of it.
For Edhen Milano I've done couple of lookbooks, where product images were harmonically combined with a story. "A day of mr. Edhen" tells a story how one guy prepares for a date: he wakes up, walks his dog, picking flowers and finally standing at her door with flowers and bottle of champagne – in my opinion, that was fine example of interesting communication with customer.
For Moscow-based streetwear store chain called Kixbox I've done seasonal designs for two times. Each seasonal design included graphical theme, that was expanded to various formats: from window displays to price tags and shopping bags, SMM content. It was very interesting to catch eyes with unexpected characters. First time it was "Seaman tattoo" theme, so shops were decorated with mermaids, giant octopus and other smaller symbols and characters.
That were just three examples from many-many clients, who really wanted to show their products and services in a new way – and when I have an opportunity to stand near this wonderful communication, I really love my job!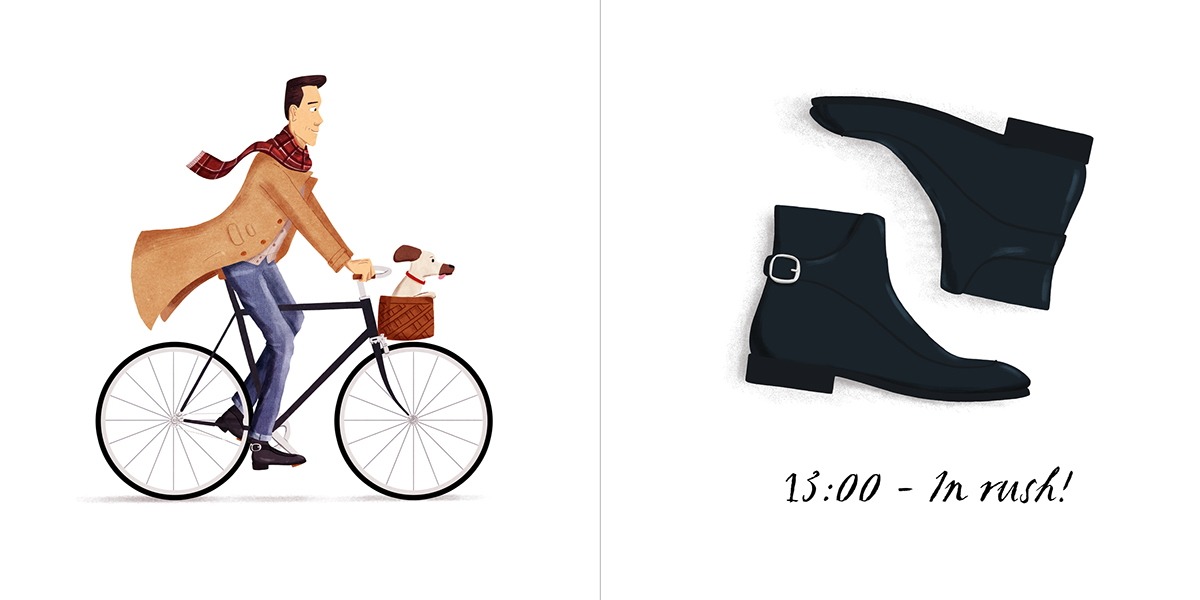 You have some special individual style. How do you define your own style?
Take one part of old-school cartoons, two parts of irony, pinch of surrealism and I guess that would be it.
You also have fashion-illustration blog called Style Illustrated. To be honest, I really like it! Could you tell us how you started to create your blog? Please, take us through the process!
I'm very glad to hear that this part of my art was marked as separate question. After I've done series of fashion illustrations for Fott and lookbook for Gant Rugger back in 2011, I've decided to develop this direction and started this blog. Some outfits were inspired with movies, style icons (like Steve McQueen, sir Paul Smith or fabulous Mark McNairy), but most of it – here's my confession – garments I'd like to wear myself.
Also there one challenge for each outfit – each item I choose has to be real existing garment. That's why every single fashion illustration I do starts with surfing around webstores, hunting for the garment matching my idea the most.
Do you have any dream client?
Of course, and I must admit, that it would be a big list! But I won't call it by names, just describe the fields: menswear brands with rich history, famous places of big cities (parks, museums and galleries, etc.), lifestyle magazines, firearms, furniture, soda drinks manufacturers, well…I'll name one name, because I'm absolutely obsessed with it and have no idea how my skill may serve there. It's Wes Anderson.
Three favorite artists, you get inspired…
It's hard to narrow it down to three, but I'll try my best: Erich Sokol, Jean Effel, and Walt Disney.
What does a typical work day look like for you?
Nothing extraordinary: tea, cigarettes, paper, and pencils, computer and music.
How do you see design evolving in Russia?
Last two years were very important for Russian designers and the main reason, in my opinion, that our people became more worldly-wise. Nowadays it's not enough to start selling stuff around the corner – you have to wrap it in a pretty package, and it's getting more and more tricky to catch customer with each day. That's the situation in two words.
How has Russia influenced your illustration?
Russia is most contradictory place on Earth: there are so much epic and tragic moments in our history and present, but it always neighbors with irony and humor. We are the nation who sent the first man in space and built smallest houses at the same time.
Living in this situation might seem tough sometimes, but inspires a lot, lets you see things in various angles and dimensions, find unexpected solutions.
Thank you!
styleillustrated.tumblr.com
amashanov.tumblr.com
instagram.com/amashanov