karljoel.se
instagram.com/karl_joel_lrsn
Hello, Karl-Joel!
Hej, hello, bonjour!
Can you tell us about your background?
I come from a medium-sized Swedish town which you naturally leave after high school, and so I moved to Gothenburg to study. While studying for about five years I've tried a lot of different disciplines, I've done graphic design and advertising, painting, some more graphic design and furniture design. Since a little more than a year ago I've focused all my time on illustration.
You were born in Sweden. What do you love about it, and how has it influenced your work as an illustrator?
Yes. Well, that medium sized town I come from is really nice in the summer time, there's lots of rivers to swim in. Growing up I had a whole forest to play in just a block away from my parent's house which was nice, but that's about it. I don't think it has influenced my work in any specific way. Where I live now in Gothenburg, it's pretty cheap, so I guess it provides a good environment for being creative, not having to work full time, having more time for fun stuff and still be able to get by.
How would you describe your approach?
Lately, I've been working on developing a way of drawing people in a fair and lovingly way. Reflecting on skin color, body shapes and body language, posturing, clothing and so on I want to be able to create illustrations that are open to all. I am also exploring how I can portray people without gender defining them. Often in my illustrations, it doesn't feel at all relevant to me to define the genders of the people a draw.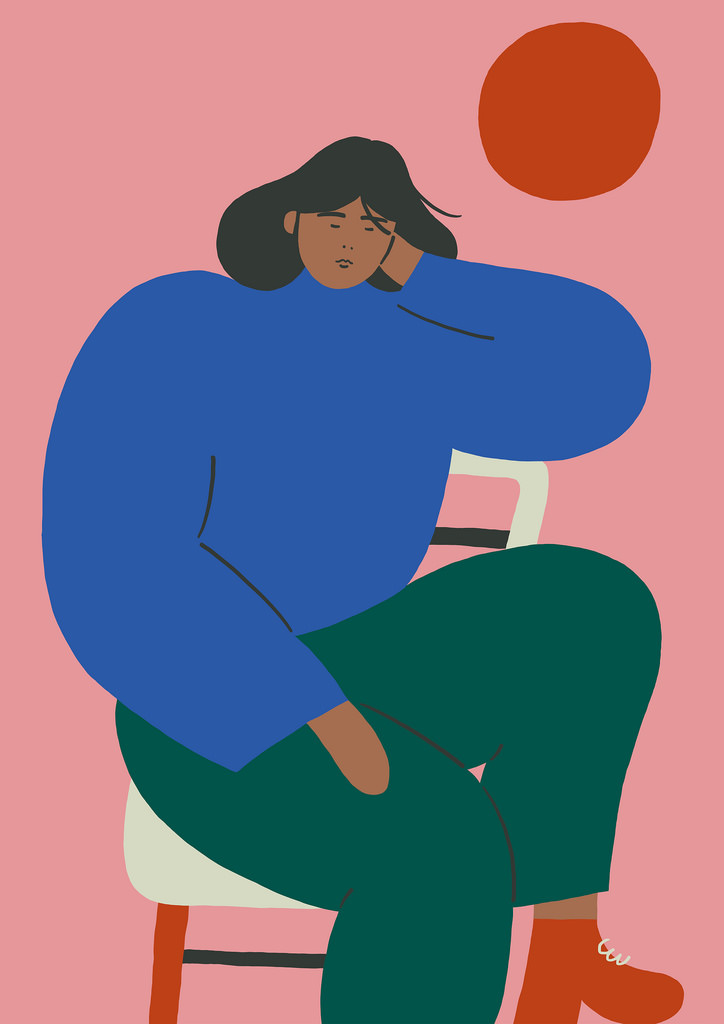 Could you take us through your creative process?
At the moment I almost only illustrate digitally, but I'm working on developing my drawing technics and visual language the old analog way with pen and paper.
Can the creativity be learned later, or is it a feeling that is always within the human being?
Yes of course! I've been very privileged in that growing up I always had space to paint and then I got to go to different art and design schools. But it wasn't until late into the last semester of my bachelor that I started taking my illustrations seriously, and by then I was already knee deep in my degree project which was about furniture design. So I studied all this time but never took advantage of the drawing and illustration classes and tutors available. After finishing school and deciding on going for illustration, I had to learn to draw by myself. I think you can do whatever just as long as you find it interesting and spend some time on it.
What is a day in the life of Karl-Joel Lrsn like? Tell us about your daily routine.
A good day starts sort of early (but not too early). I make a cup coffee and get to work. Since my "studio" is also my tiny apartment, it's a short commute. I work until I'm done, have tired, the sun has set or until I have to do something else. The bad part about working from home I find is disciplining myself. Often the bed is a way to close to the desk and an afternoon nap is very tempting. But drawing and doing other creative stuff is also my hobby, so in a way, I'm almost always working.
Are you a morning person? At what time of day do you most enjoy working?
Sadly no, I wish I was! I usually start around noon and work until the sun sets, which in the winter time in Sweden is super early. So I'm looking forward to spring with longer days and the energy I get from the sunlight. It's funny how I'm not a morning person, but I'm still very dependent on the sunlight, haha!
What is your setup look like?
A tiny sketchbook, my laptop, Photoshop, my drawing tablet, some books, some internet connection for googling stuff and few cups of coffee.
Where is the best place for inspiration?
I have a couple of go-to books that are always really nice to just go through, but it's mostly the internet. I spend a lot of time (too much time) online just looking at things. What I really appreciate about the internet is how it sometimes can lead you into a gold stream of inspiration whether it's images, music or text.
Who are some other artists and illustrators that influence you?
Oh, there's so many! I've found a lot of great people on Instagram, and I'm so thankful for their inspiring feeds every time I open the app. But a few special ones are Henri Matisse, from which I got inspired to start drawing people, Sigrid Hjertén because she was just a genius of colour and composition and my friend Ida Sundin Asp, a brilliant illustrator and writer.
Tell us a bit about the way you work. When you're illustrating, do you have specific music you listen to?
To start drawing, first of all, I need a really vivid visual idea or a certain mood. I try to get into that mood by surrounding myself with lots of inspirational images and with music to set the mood. The music can differ, but some jazz music is never wrong.
What did illustration and design teach you?
How to (alongside with love, of course) enjoy life, to feel the joy of creating things and through that connect with other people.
What was the last thing that made you laugh?
A dog meme. I just love dogs!
Finally, Is there something you wish interviewers would ask you — but never do?
Hm, no, not really!
Thank you!
karljoel.se
instagram.com/karl_joel_lrsn