patrickdrawsthings.com
instagram.com/patrickdrawsthings
Hello, Patrick!
How would you describe yourself – who is Patrick Hruby?
I guess I would describe myself as a curious person. A lot of what I do, not just with art and design is, at its core, motivated by curiosity. Ever since I was little I was always taking things apart to figure out how they worked. I have been freelance illustrating for 8 years now and recently have been working full time as a designer. I get to work on textiles, fashion, toys, all of it feeds into my curiosity.
What is your earliest memory of drawing/illustrating?
I was really lucky as a kid because I come from a really creative family that was always making things. My mother is a painter, my grandfather was an architect, my siblings are all creative. It's difficult to think of the first time I was drawing, but I can say that some of my earliest drawings were of bats. I was obsessed with them and I wanted nothing more than to have a bat as a pet. It never happened and probably for the best.
What is the most enjoying part of illustration?
It's easier for me to say my least favorite part. I get impatient with sketches and want to jump right in and start "building" a piece. I love shape and color and I want to get in there and start making it. That being said, I do enjoy sketching and drawing I just get excited about the final process.
How would you describe your relationship with colours if you had to?
I feel like I am always learning new things about color. People talk to me a lot about the color in my work, and maybe it is because I love color so much that I always feel like I have more to learn. More than single colors I love the relationships between them. I feel in a lot of ways, color can bypass thought and reason and get right to emotion.
If I could be any colour, I would like to be …..
I love pink. I guess that's what I would be, but ask me again tomorrow.
Can we talk a bit more about your style? As we see you use geometric shapes a lot! How would you like to describe it?
There definitely is strong geometry in my work. I think if I am working at my best I am trying to make something that is architectural as well as whimsical and human. Most of my work is digital but there is a human behind it. Color also plays a really important role. That's kind of the surface of what I do. On a deeper level, I am not so much a conceptual illustrator. I like what I call "world building" or making little windows in to imagined worlds.
Can the creativity be learned later, or is it a feeling that is always within the human being?
I think that humans are creative by nature and I think we all express it in different ways. Just having a thought is an act of creation. Everyone is different in the way they express it or not, but it is within us all.
What other illustrators are you digging these days?
Too many to name but here are a handful. Lesley Barnes, Ellen Surrey, Loris Lora, Alexander Vidal, Eleanor Davis, Carson Ellis, the list could go on forever. I feel lucky to be around at a time when so many inspiring illustrators are.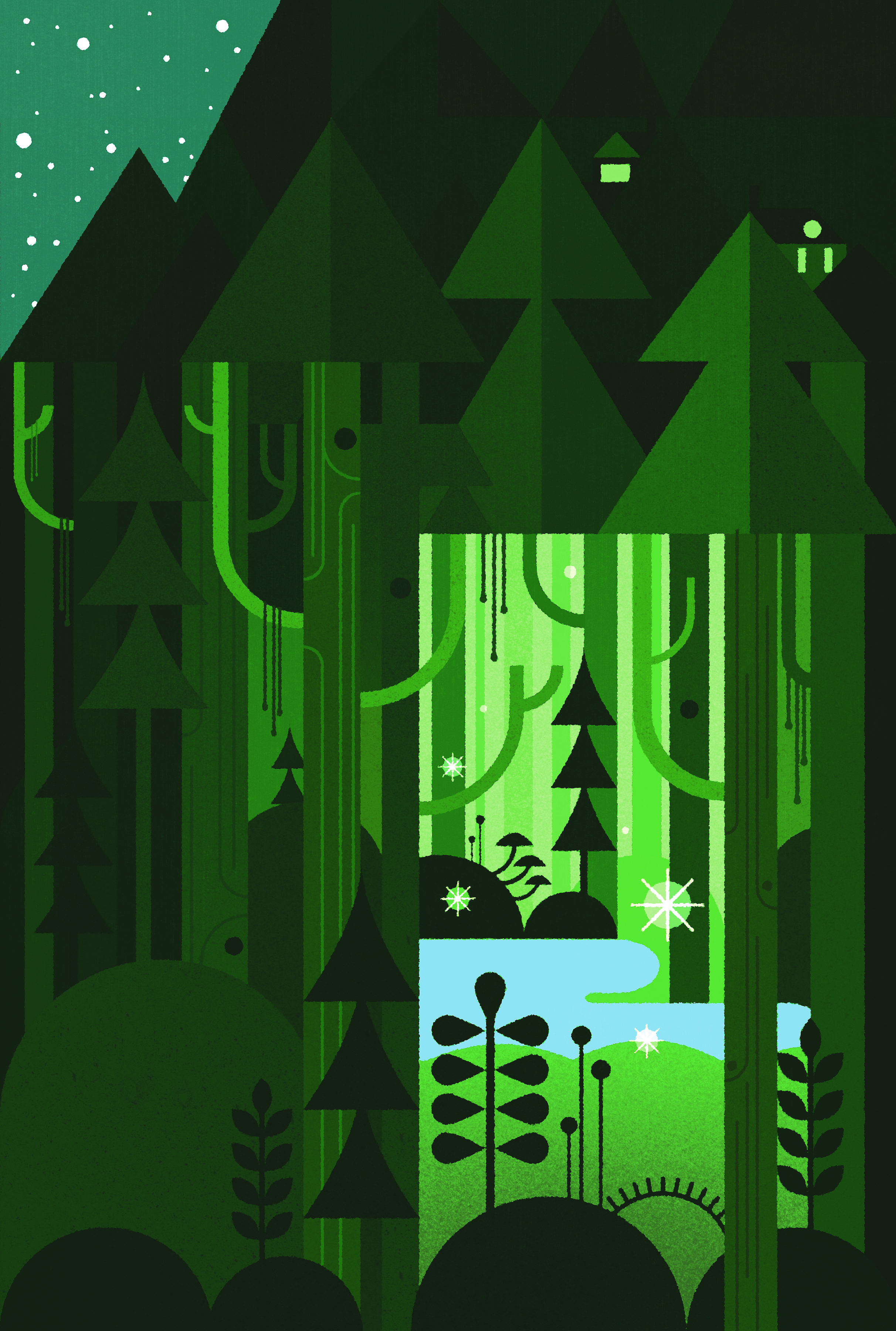 Where are your favorite spots in Los Angeles? Food, coffee, shops, etc.
Unfortunately, my favorite restaurant just closed (RIP Canelé), coffee at Dinosaur in Silverlake, the Huntington Gardens is hands down my favorite place to be.
What is your biggest source of inspiration?
Books mostly, but I think 8bit video games played a big role in developing how I think about images. With the limitation of graphics, they had to describe complex scenes and ideas with very simple shapes and limited colors.
What are your top five songs on your playlist?
That's a really hard one. How about five bands I am really into right now? Perfume Genius, Typhoon, Okkervil River, Thao and the Get Down Stay Down, and Diamond Rings.
Do you have a daily routine or anything specific you find yourself coming back to regularly when working?
I drink a lot of coffee at my studio. I used to constantly warm it up in the microwave until my studio mate finally gave me a little desktop coffee warmer.
If you could experience anything over again from childhood, what would it be?
Holidays were always really magical when I was a kid. I would love to relive Halloween and Christmas as they were when I was little.
Is there anything in your life that you can't live without?
Coffee for sure. My friends and family are really important to me.
If you could collaborate with any artist, who would it be?
Another hard one! I think more than a single artist I would like to work with someone who does something I can't, like a writer, a musician, or a rocket scientist.
Finally, is there something you wish interviewers would ask you — but never do?
Not that I can think of. Thanks for taking the time to interview me!
Thank you!